You probably heard of laundry powder, laundry capsules or even soap nuts which helps one in their daily washing needs. But have you heard of laundry sheets?
Laundry sheets are pre-cut, pre-measured, concentrated sheets of laundry, without liquid or plastic packaging. It is all the necessary natural ingredients to clean our clothes, bound together in a sheet of dissolvable and biodegradable special paper.
We know it is a pretty new concept, so here are some of your burning questions being answered for this plastic and waste-free product!
Do note that the following information is related to the laundry sheets we sell from Simple Living Eco and does not represent all laundry sheets due to differing formulations. 
Does It Really Work?
Of course! Laundry sheets work as well as a liquid detergent or laundry powder. It works well in both hot and cold water.
Don't believe us? Here are some reviews:
Becki: I've been using these for the past few weeks and so far I'm very happy! Eco friendly, zero waste and no nasty chemicals! My son has very sensitive skin (eczema) and he hasn't had any reaction which I'm pleased about. Will definitely continue to purchase and recommend to others
Karen: Brilliant idea that actually works. They take up 10% of the space of a large box of detergent and clean just as well as normal powder. Have recommended them to family and friends already.
Heidi: A laundry game changer – very pleased with the laundry sheets, clean clothes well and have used in combination with stain removers for stubborn marks/stains. Delivery was speedy too and a definite satisfaction knowing I've further reduced our household reliance on plastic.
What Ingredients Are In It?
Water, naturally derived surfactants from coconut oil, polyvinyl alcohol, essential oil.
​PVA is a biodegradable polymer used as Simple Living Eco's proprietary binding agent, creating a detergent, neither liquid nor solid, that evenly dissolves in the wash. It is created from plants and is all-natural. Hence making it is non-toxic and safe for humans, animals, and marine life.
How Do I Use It?
Easy as A-B-C!
1) Place your laundry in your washing machine
 2) Toss 1 laundry sheet into the wash to dissolve
 3) Turn your washing machine on and let the sheets do their job!
How Much Do I Use? 
You can use each sheet on a regular 5kg load of lightly soiled laundry or the equivalent of one cup of liquid laundry detergent.
You can use 2 sheets for heavier loads or if you like to have more cleaning power or even 3 sheets for extra heavy loads like bedding and towels.
Can I Tear The Sheets?
Yes, you can tear the laundry sheets into smaller pieces if you need to!
Can I Use It For Handwashing Of Clothes?
Yes! Tear half a sheet and swirl it in a bucket of water until it dissolves. Hand wash your clothes as usual.
How Is It Different From The Pods?
Laundry detergent pods are water-soluble pouches containing highly concentrated laundry detergent, softener and other laundry products.
Here are some differences between pods and sheets:
Most pods are sold in either plastic tubs or plastic packs while laundry sheets are packed in either compostable paper packs or paper boxes.
The pods have liquid-like contents inside them thus adding to the weight of transporting them
The detergents in the pods may be different from that of the sheets. Do read the ingredient list carefully as it will differ for each brand!
Can I Use It If I Have Sensitive Skin?
Yes! It is a natural plant-based product, hypoallergenic, free from parabens, phosphates, benzene, chlorine, bleach and dyes.
What Other Benefits Are There?
– Being lightweight and liquid-free allows you to use less storage space
– Convenient for travelling
– Save time as you do not need to measure or pour
– No mess as compared to laundry liquids or powders
– Animal cruelty-free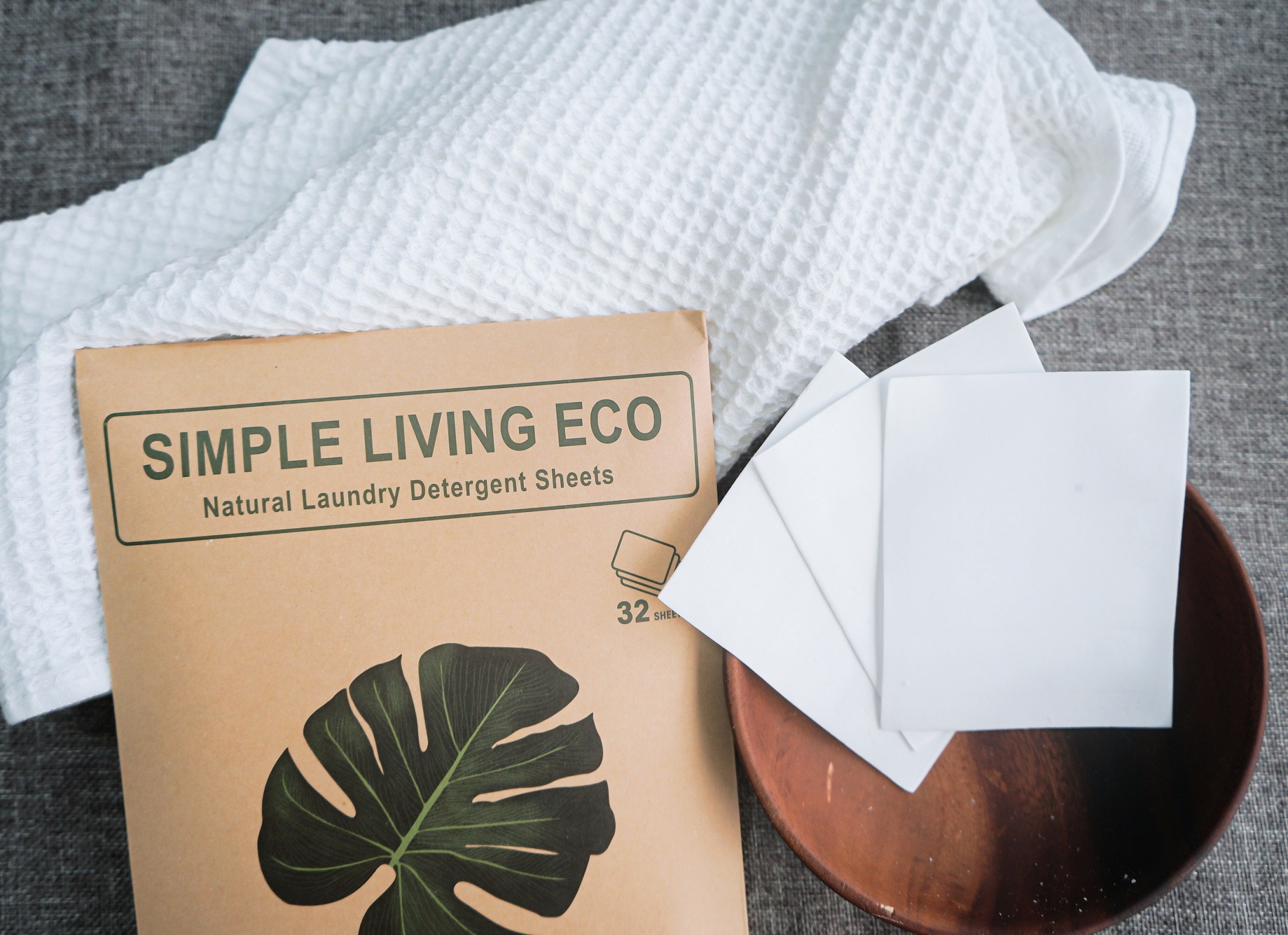 How Is It Sustainable?
– It helps to eliminate single-use liquid laundry detergent plastic containers from our landfills. It removes any form of unnecessary packaging required and eliminates plastic.
– Free from nasty chemicals like chlorine, bleach or dyes! Chemicals like these when washed into the environment can affect our marine life.
– Reduced carbon footprint than liquid laundry detergents as the sheets are lighter in weight.
What Is The Shelf Life of The Laundry Sheets?
The shelf life is 3 years from the date of manufacture.
With that, we hope we answered all the questions you have about these laundry sheets. If not, drop them down in the comments below!