Workshops Conducted To Date
Individuals Gained Skills About Sustainability
Online and offline options available
Suitable for age 8 and above
I wholeheartedly recommend The Sustainability Project for corporate workshop and talks.
We would like to express our heartfelt appreciation for The Sustainability Project's professionalism and support rendered to ROAM in the past events.
TSP has been instrumental in the various sustainability workshops and talks pertaining to refuse waste and the environment in our portfolio. It was a great experience working with their team.
Jo's passion and motivation have brought significant contribution on the sustainability awareness at One Raffles Quay, Marina Bay Financial Centre, and Marina Bay Link Mall.

– Toh Hong Jie, RQAM
I appreciated the pace of the workshop as well since the explanation/introduction was done quick and short and we moved to the actual activity real quick!
I had quite a lot of fun and managed to interact with others that went for it.
It was really interesting to find out how the wraps were made and really fun to do it ourselves hands-on! I appreciated the pace of the workshop as well since the explanation/introduction was done quick and short and we moved to the actual activity real quick!
"The beeswax workshop was not only fun, but also really practical and educational as it teaches us how to repurpose our existing materials into a brand new sustainable product!
The people from TSP were also friendly and approachable whenever there are doubts.
– SMU, Project Stop Single Use Disposable
The effort and thought put into this really amazed us!
The coffee ground soap-making workshop was fun and engaging!
There were plenty of shapes and sizes of moulds and even different textures of coffee grounds for us to choose from.
We were pleasantly surprised that The Sustainability Project team actually went to cafes to collect the coffee grounds and dried them on their own.
Would definitely recommend this workshop!
– YY, Health Promotion Board
The facilitators were also very engaging and helpful!
The workshop was excellent, down-to-earth, providing us skills that are invaluable and enabling.

– Jean Choo, Airbus Asia Training Centre
Jo has a great charisma that both our virtual and physical attendees had equal fun in doing the workshop.
This is our 2nd time engaging with Sustainability Project. We like how there is an introduction on the benefits of using beeswax wrap and followed by an easy-to-understand guide on how we can make this on our own.
Overall, it was beneficial in raising awareness on sustainability and a great experience. We hope for more future collaborations with the Sustainability Project!

– Yati, Pacific Life Re
Jo and team have been so accommodating to our requests and decisive too!
So glad to have come across The Sustainability Project and we've got alot more to learn! 
Learnt from a few things about upcycling, something that we unconsciously neglect, and how it is always important to think of how we can make use of our daily necessities into something more sustainable and into a good and better use!
– Outside SG
Everyone took away their own beeswax wrap and knowledge on how to make more conscious steps in their sustainability journey.
We invited Joline and her team to come down to our office and hold this workshop for our staff as a part of our Sustainability Week coinciding with Earth Day.
Not only was the workshop a lot of fun to get done but also provided valuable information to everyone on the practical everyday use of having reusable beeswax wrapping as opposed to plastic wrapping.
– Delivery Hero (Food Panda)
The participants have truly enjoyed the DIY Foam Handwash and it was the first time for some.
It has been a pleasant working experience with you and the team and thankful that the team is able to accommodate our requests (for eg. Preparation of foam handwash pumps).
– People's Association
TSP team, especially Jo, has been helpful and accommodating to our requests in organising Beeswax Wrap workshop for youth.
Their quick replies to queries have made coordination easier.
During the workshop, apart from making beeswax wrap, Jo was generous in sharing knowledge about sustainable living with the participants.
– People's Association
Collaborating with The Sustainability Project has been nothing short of amazing.
After engaging Jo and her team to conduct a workshop for our members.
They were professional, efficient and accommodating in their approach as they continued to implement a fantastic workshop event for our members, while sharing an effective presentation on the zero waste lifestyle.
We are truly appreciative of Jo's knowledge on the subject matter which complimented our messaging on our sustainable initiatives.
Through the event, our members had a great time in the workshop and were able to better understand the concept of the zero waste initiative after the session.
– Kenny, WWWF Singapore
Simple, educational and spot on
Thank you for the interactive workshop in the context of sustainability and for raising awareness about environmental issues.
– Switzerland Convention & Incentive Bureau
Overall, the pace was good and timing well-managed, very friendly facilitator – Jo.
Thank you Jo for conducting the workshop!
This was a hands-on, relaxing and therapeutic session for Tzu Chi's renal care recipients.
Definitely a breakaway from their usual dialysis routine and a pleasant experience to learn about eco-sustainability. 
Look forward to working with The Sustainability Project again!

– Alex, Buddhist Compassion Relief Tzu-Chi Foundation (Singapore)
It was a great way to get our mind off our daily work, doing something meaningful where we can play our part and make a small impact to our environment.
My team and I had so much fun. We were very happy to bring back 2 beeswax wraps, which could help us reduce our plastic consumption.
Cecilia was also very knowledgeable and was able to answer all the questions my team mates had given her.
We were also given a tour around the shop and learned about the initiatives you treehuggers are doing!
It was a pity that the 1.5 hours workshop went by so quickly!
The view at the studio was also very nice, hence, the entire process was very therapeutic."
– Jocelyn, BENEO Asia Pacific Pte. Ltd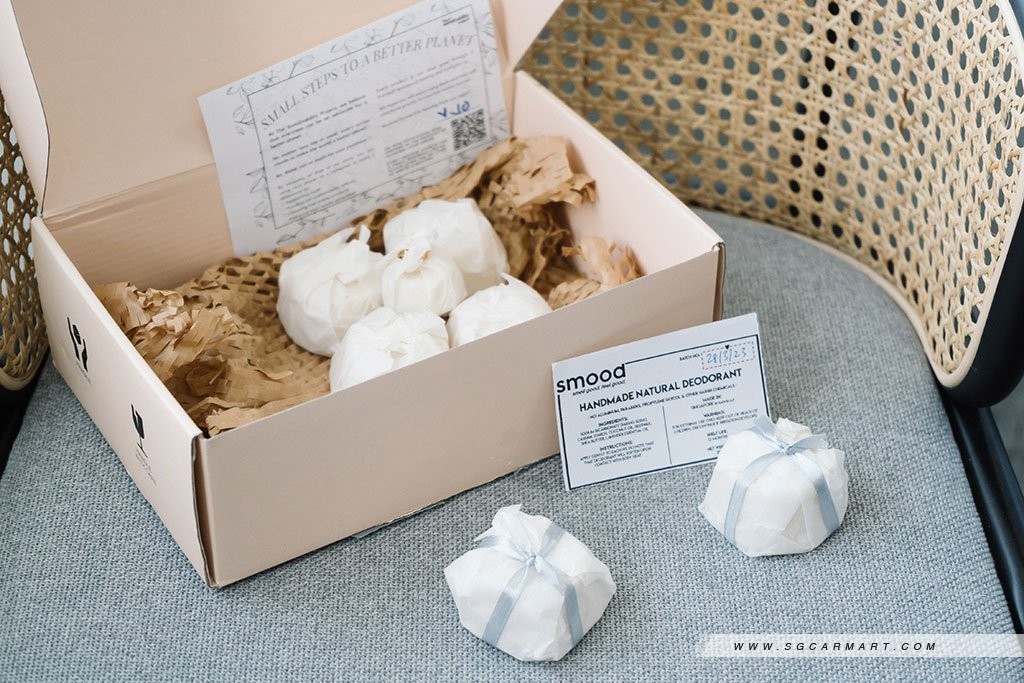 Going(in) green: We hop into a special MINI for an afternoon out… making deodorant bars from scratch
The DIY deodorant bars you can learn to make here are superior not only because they eliminate the need for superfluous packaging, but because they are composed entirely of natural ingredients. 
With the natural afternoon light flooding in through the tall windows, most of what is visible on the tables is repurposed from donations – right to the very containers used to store the materials that will soon go into our deodorant bars. 
Let Us Know Your Requirements!
Send us information on your requirements.
Receive an email from us within 3 – 4 working days.
We reply to all emails. If you did not receive a response, please check your junk mail folder!
Our team will follow up and work closely with you to finalise on the most suitable workshop.  
Sign the quote to confirm the workshop.
Enjoy the workshop & have fun!