"Up to ⅓ of all food produced globally is wasted."
"The amount of food wasted every year could feed 2 billion people."

We're constantly reminded about the amount of food we throw out each year, with alarming statistics plastered all over the media. Yet, despite campaigns to increase food waste awareness, food waste is projected to increase by a third by 2030. Now, we need to rethink how we view food waste. We need to understand that it's part of a broader concern: global warming and climate change.
You may think the bag of rotten tomatoes or leftover cheese from your previous pasta recipe may no longer be your concern once they are in the bin. But our food-chucking habits have far more significant implications for the earth. Food waste breaks down in landfills and produces methane, a greenhouse gas contributing to global warming and climate change.
Many countries, especially land-scarce places like Singapore, are now running out of space to dispose of all the food waste. Our Semaku landfill is projected to be full by 2035! So there is a need to innovate and look at ways to divert waste from landfills, and one of them involves black soldier flies. Intrigued? Read more to find out how these tiny flies can alleviate problems linked to food waste.
What is the Black Soldier Fly?
The Black Soldier Fly (BSF, Hermetia illucens) is a fly native to Singapore. These little soldiers are employed to valorise food waste. They are "essentially recyclers that can turn huge amounts of organic waste into protein." Its larvae can decompose and break down food waste into frass—the flies' poop—which is rich in nutrients like phosphorus and nitrogen. Then, the frass can be converted to fertilisers for crops.
The BSF may be tiny, but they are notorious for their voracious appetites! They may devour up to four times their body weight in food waste! To illustrate, 1kg of BSF larvae can convert more than 20,000kg of waste, which would otherwise be incinerated. This reduces the amount of waste required to be incinerated, effectively reducing the amount of greenhouse gasses produced.
Also, the BSF larvae contain high levels of proteins and lipids, which can be made into feed pellets. Conventional animal feed is pegged to various environmental problems like greenhouse gas emissions, deforestation and land degradation. According to the FAO, 33% of the world's cropland is used for animal feed production. The nascent insect sector can provide animal feed "through a more sustainable production process with low-value inputs, high-value outputs and low environmental impact." This may reduce the competition between food and feed production, which may help meet the global population's food needs.
Read more: Addressing the Elephant in the Room: How You Can Deal With Food Waste in Singapore
Tiny helpers of our local community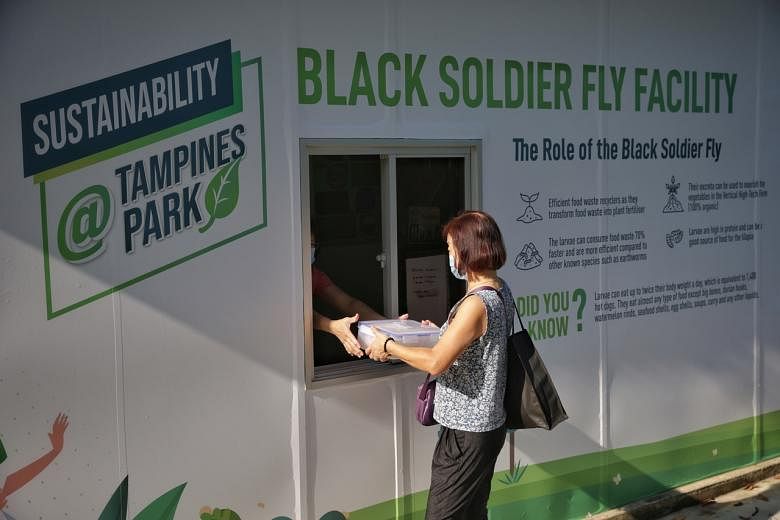 Source: Kevin Lim, ST Photo 
Now, let's look at how BSF is used in Singapore, where 700,000 tons of food waste is wasted each year. With increasing food waste, we will need more waste disposal infrastructure, which puts pressure on our already-limited resources. As a land-scarce country, perhaps the insect industry is the way forward to upcycle food waste to keep it out of our landfill and to improve our food security. A recent example is the Black Solider Fly Facility at the Sustainability@Tampines Park, a joint effort between the Singapore Food Agency (SFA), Tampines' town council, Tampines Residents' Network, Netatech, and Otolith Enrichment.
How does the Black Solider Fly Facility work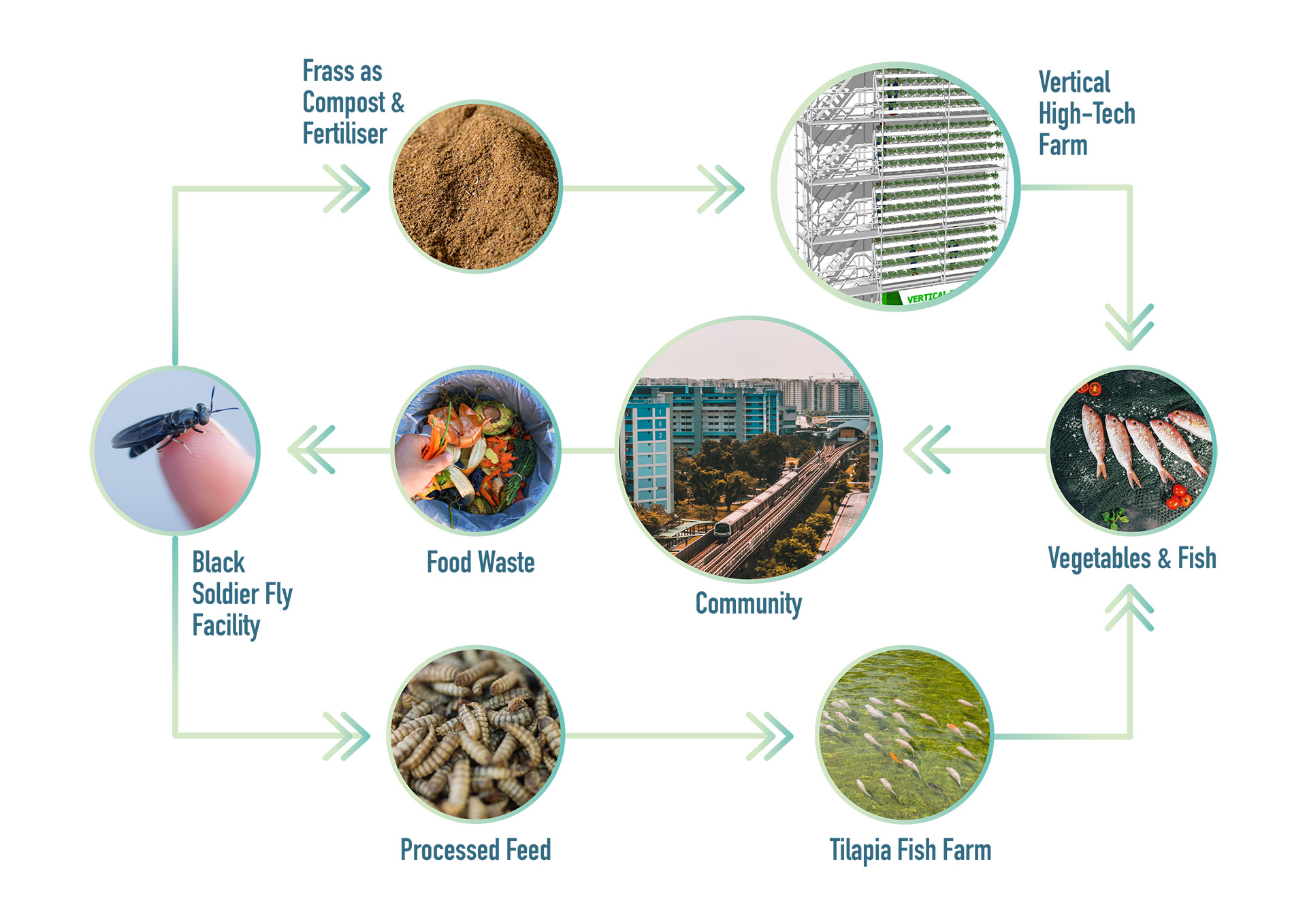 Source: Tampines Town Council

The BSF facility at Sustainability@Tampines Park is a community-based initiative aimed at creating a "circular ecosystem that strengthens the community's food resilience." Instead of throwing out leftover food and food scraps, residents are encouraged to contribute the food waste to the facility, where the larvae would gobble the waste and convert it to frass. The nutrient-rich frass is then converted into organic fertilisers for the vertical vegetable farm located within the park. The BSF larvae are also harvested as high-value feed for the tilapia fish farm.
A marriage between waste management & sustainable food production

"Singapore faces a twofold challenge in its journey to food security," says Prof Nalini Puniamoorthy, Assistant Professor from the National University of Singapore's Department of Biological Sciences. Singapore's growing food waste problem and food security issues put immense pressure to seek ways to reduce food waste and increase local food production sustainably.
Currently, our local produce relies a lot on imported fertilisers and animal feed. This increases the cost of local food production and Singapore's environmental footprint. The BSF facility project is a perfect example of integrating waste management and sustainable food production. It's important for a few reasons: 1) food security and 2) greenhouse gas emissions.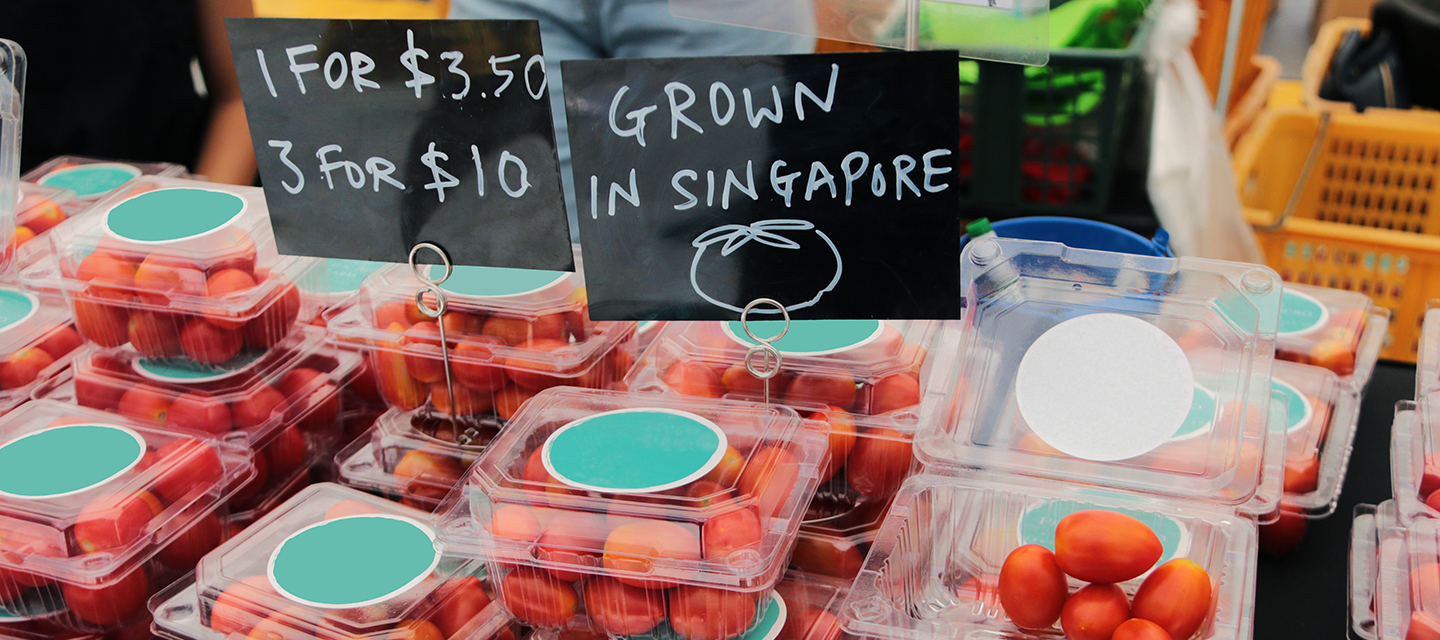 Source: Singapore Agro-Food Enterprises Federation Limited (SAFEF)
Singapore's food supply is volatile since 90% of it is imported. Cutting back on food waste helps with food security, as less food has to be sourced to meet our demand. Also, with lower production costs, Singapore could increase local food production to improve our food security. Second, reducing food waste could also contribute to reducing greenhouse gas emissions.
Although the SFA is still conducting trials to ensure that the vegetables and fish from the BSF facility are safe for consumption, the facility could help Singapore inch closer to the 30 by 30 goal when expanded to a national scale.
Read more: Easy Meatless Monday Recipes
While the Black Solider Flies may seem like a viable solution for food waste, the tiny fly army isn't a silver bullet. The best thing we can do is to cut out profligacy and keep food waste at a minimum. 
This article is written by Sean.