Are you looking for Meatless Monday recipes? Here are eight fairly easy, beginner-friendly recipes from breakfast to desserts.
I don't know about you, but I find some vegan recipes quite intimidating, especially when I just started out in the kitchen.
I don't have tools like a food processor and blender, and recipes calling for tahini, various spices, seitan (wheat meat), raw cashews, and nutritional yeast can sometimes do my head in.
If you're like me, don't worry! The list of Meatless Monday recipes I've curated below mainly uses basic accessible ingredients and requires no special equipment. Read for more tips on reducing food waste and substituting ingredients.
What is Meatless Monday?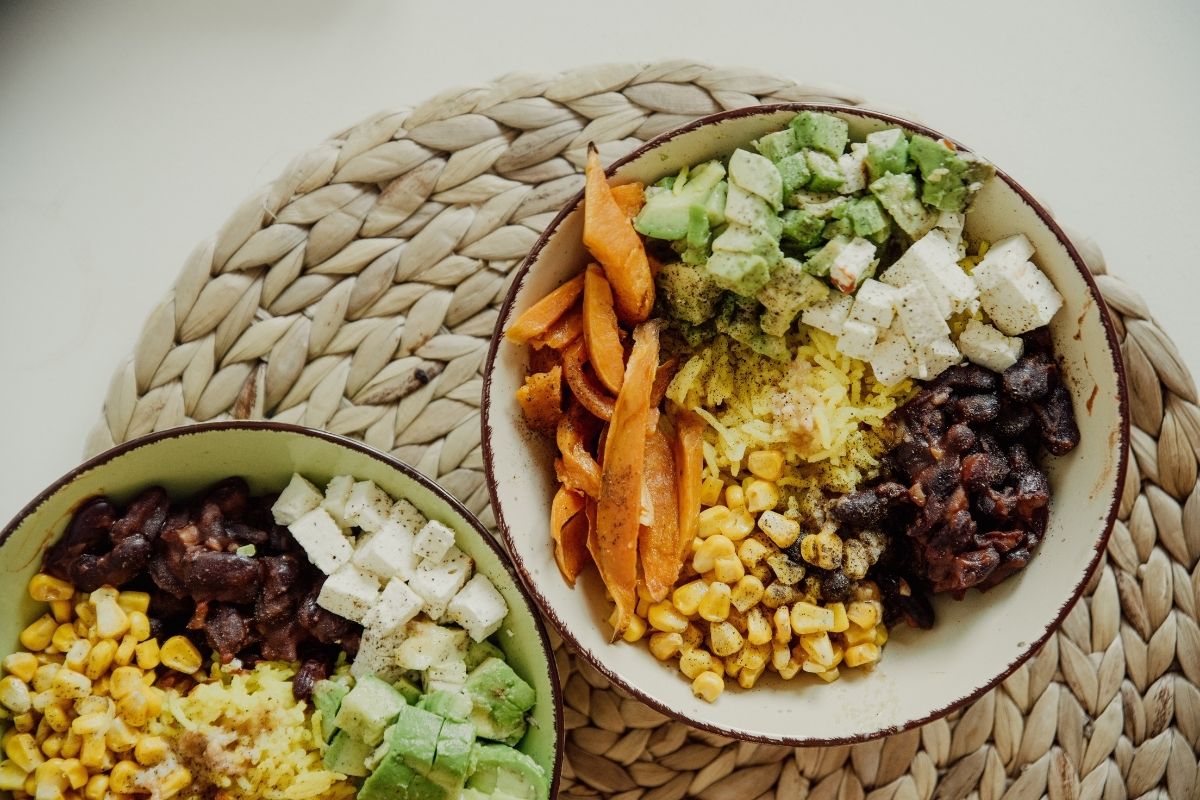 As you guessed it, Meatless Monday is a campaign to encourage people to go meat-free one day a week for their health and the environment. The movement was spearheaded by Sid Lerner, the founder of The Monday Campaigns, in 2003. You can do it any day of the week, not only on Mondays. Mondays was chosen simply because 1) it's an alliterative with meatless and 2) research has shown that people are keen to make positive changes on Mondays.
Consuming less meat and more plant-based foods may help to reduce the risk of heart disease, stroke, diabetes, and cancer. And it's also better for our environment! A plant-rich diet requires fewer resources like land and water, emits less greenhouse gas and helps to improve the welfare of our animals.
It also frees up more agricultural land, which is vital to feed a growing world population. On the other hand, a quarter of the world's greenhouse gas emission is linked to agriculture and other related land use (i.e., soy cultivation for animal feed). Greenhouse emissions from livestock include methane—typically from Bovine belching—which can be up to 34 times more damaging to our planet.
Read more: My personal journey to becoming a vegetarian
1) Overnight Oats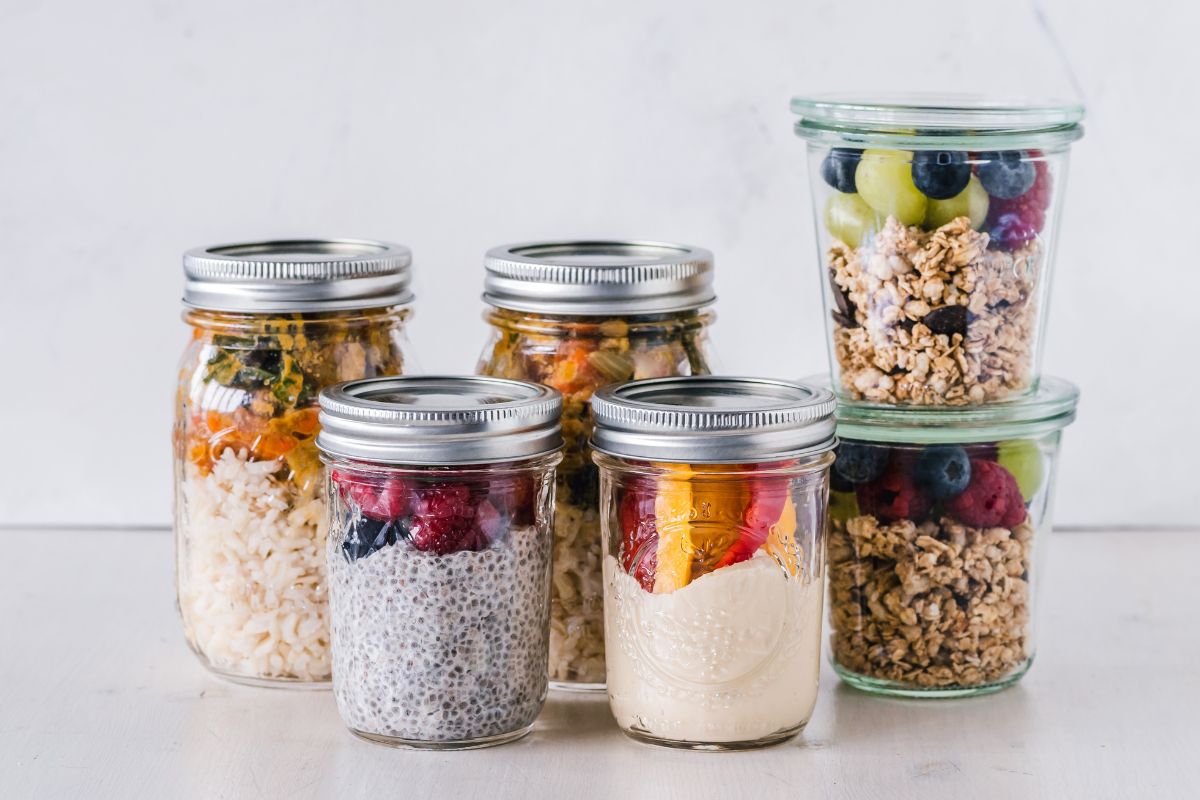 Overnight oats is the hands-down the easiest breakfast ever. It's also very versatile, so you can make it how you like! Combine the ingredients the night before and let it sit in the fridge overnight.
Then have it chilled or pop it in the microwave if you're not used to having cold food in the morning. Just remember to use a microwave-safe bowl. You can store it in the fridge for up to 5 days, so you can definitely add this to your list of meal prep ideas. Here's the recipe from Cookie and Kate.
Pro-tip: I'm not a fan of nut butter, so I omitted it, and I usually add a dash of cinnamon and nutmeg. To switch things up, I'd sometimes add matcha powder instead. For toppings, I mainly use fruits that are in season. 
2) Fluffy Cinnamon Pancakes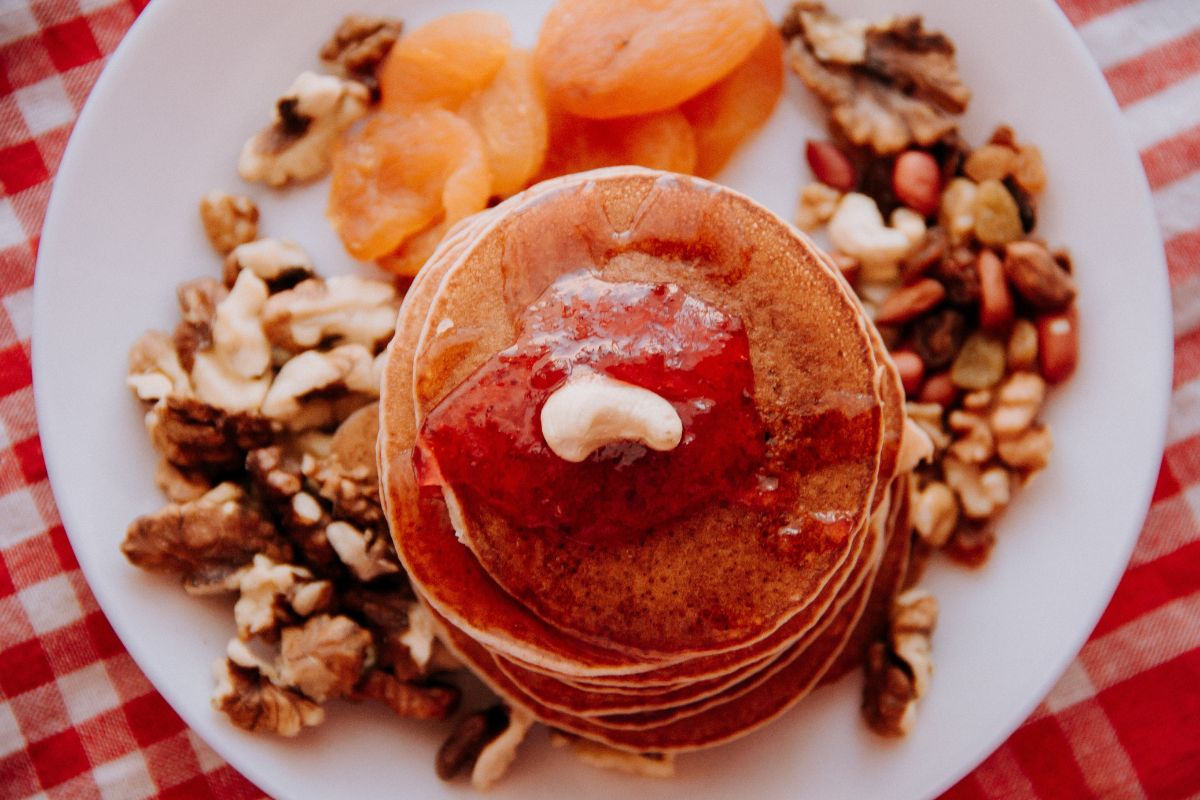 Celebrate the weekend with pancakes! There's nothing more comforting than having a stack of fluffy pancakes drizzled with maple syrup while still in your pyjamas. Yes, I'm guilty of staying in my pyjamas all weekend long.
The recipe by The Foodie Takes Flight makes four pancakes only, so it's a great serving size for one. You can easily scale it up on her website. Her website also features US customary units and metric units so that you can toggle it to your preference.
Pro-tip: If I'm not feeling lazy, I will make some blueberry compote (if blueberries are in season) to go along with the pancakes. Don't worry if your pancakes are not perfect! It will become better with practice. You can also try making smaller pancakes! It's easier to flip them.
3) Chili Oil Noodles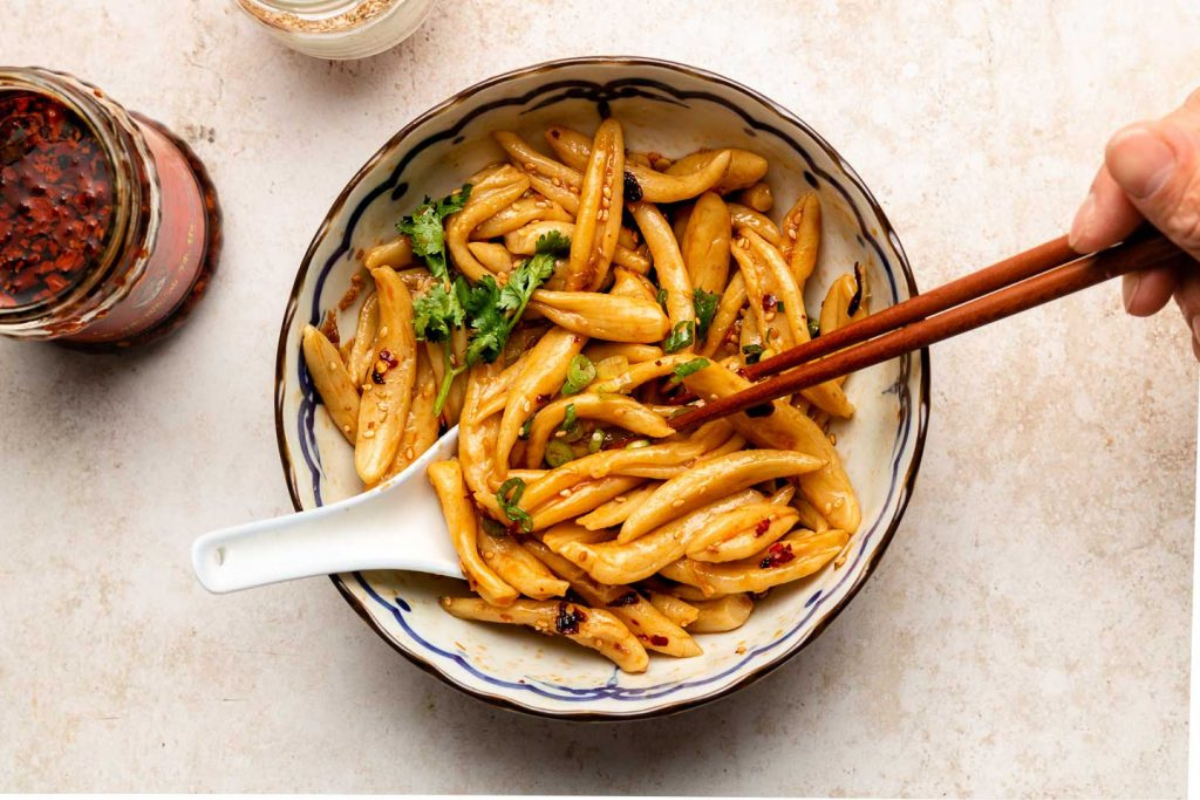 Image source: Okonomi Kitchen
Aromatic and delicious, chili oil noodles take under ten minutes from start to finish, which is really ideal for busy days. It's just noodles tossed in mouth-watering spicy and garlicky sauce! Easy-peasy.
This vegan delight was my go-to lunch recipe when working from home. Check out Okonomi Kitchen's recipe! Once you realise how quick and easy it's to whip up this bowl of noodles, you may never want to have takeouts again.
Pro-tip: You can use any noodles you like, but my favourite choice is knife-shaved noodles. Pair it with bok choy or mushrooms (I always have a few varieties in the fridge) and proteins like tofu. If you have some vegetable dumplings, throw some into the mix for a satisfying meal.
4) Bibimbap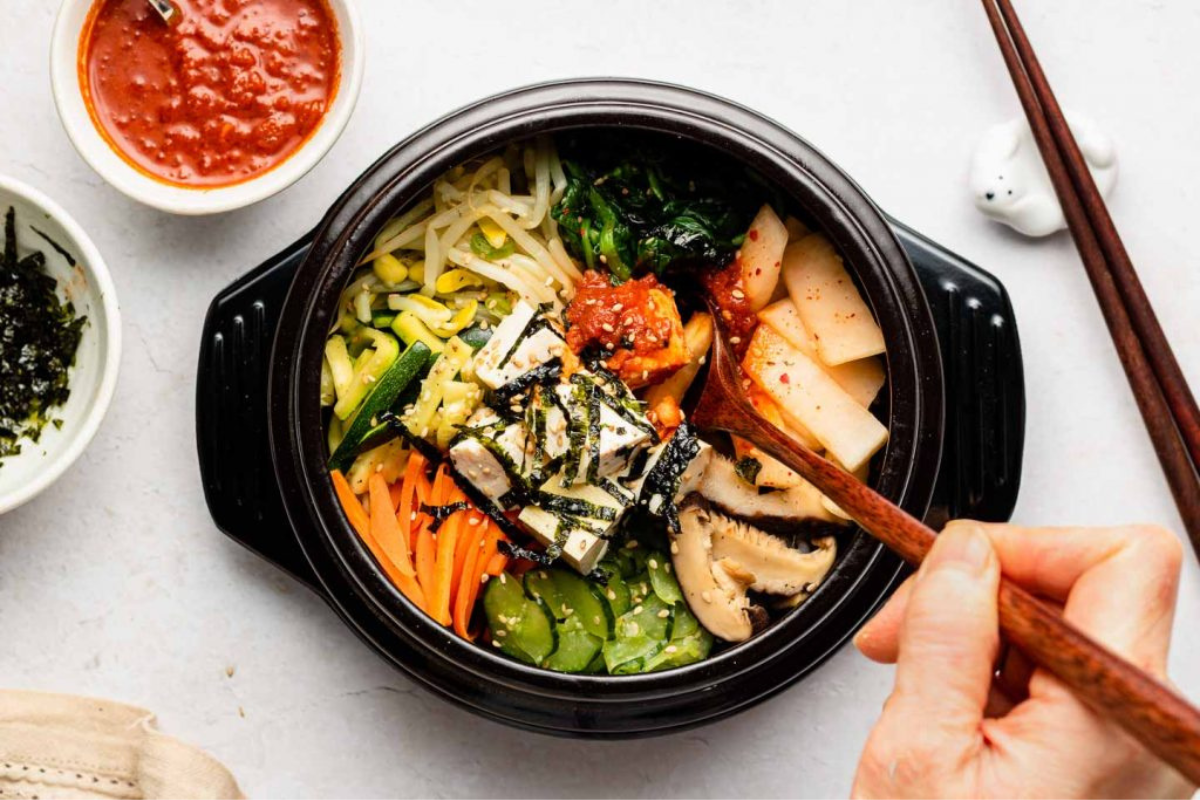 Image source: Okonomi Kitchen
Bibimbap is another easy weeknight dinner and a great way to empty the fridge. Bibim means mixing, and bap refers to rice! It's essentially a bowl of rice mixed with vegetables and proteins with a spicy gochujang sauce.
It's also one of the easiest Meatless Monday recipes if you're not sure how to keep your meal balanced. You can also top it off with some seaweed flakes for more oomph. The recipe by Korean Bapsang uses meat and egg, but you can omit them.
Pro-tip: I like to keep my recipes simple, so I didn't follow her recipe to a tee. I didn't use seasoned vegetable side dishes because it was quite a hassle to blanch them, squeeze the water out and then season them.
Instead, I stir-fried the vegetables and mushrooms separately, seasoning them with soy sauce, garlic, salt, and pepper. If you're new to Korean cooking, you can get a smaller pack of gochujang before committing to the 500g or 1kg box.
5) Sundubu Jjigae (Korean Soft Tofu Stew)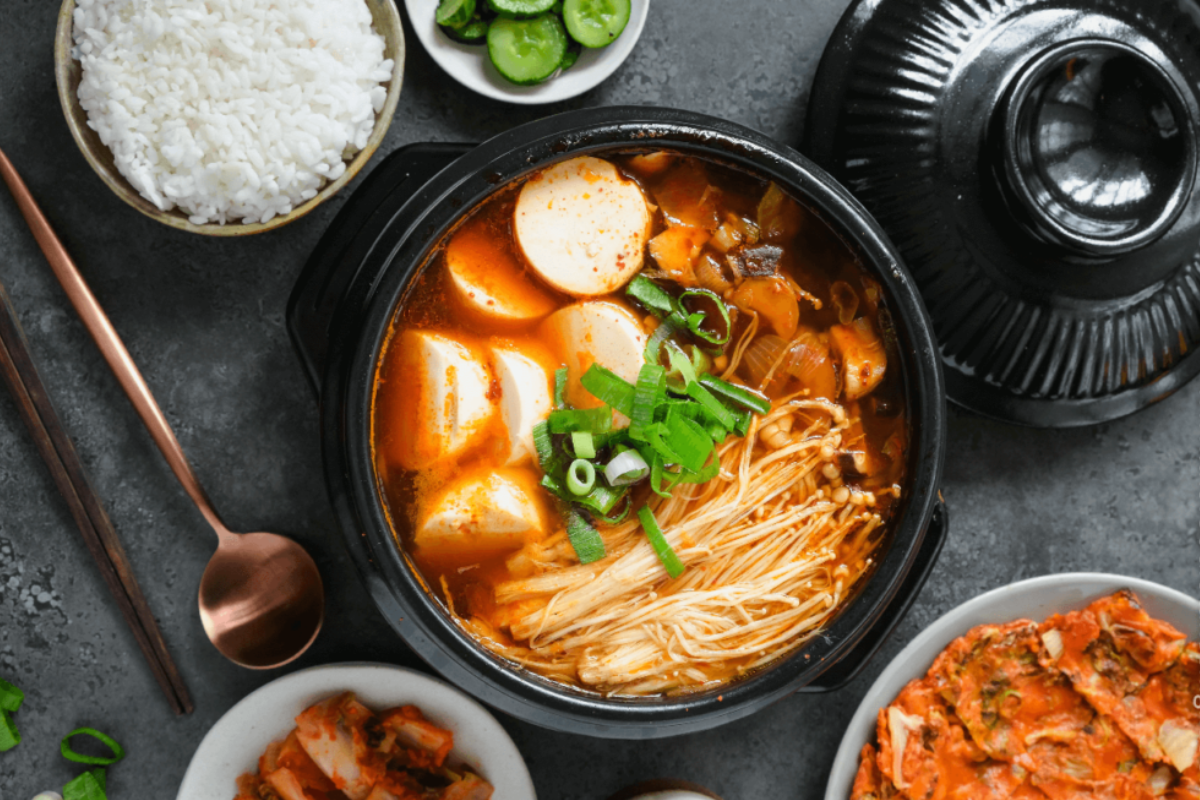 Image source: The Foodie Takes Flight
There is nothing as comforting as a warm, spicy bowl of Sundubu jjigae on a chilly night. Like Bibimbap, it's very versatile, so you can add any vegetables you like.
My favourite combination is enoki, king oyster, shiitake mushrooms, bok choy, and tofu. Head over to The Foodie Takes Flight's website for the recipe. Go easy on the chili powder if you can't handle spice well.
Pro-tip: Use firm tofu if you don't have soft or silken tofu. Lightly mash your firm tofu with a cleaver and add them to the soup.
If you've leftover tofu, submerge the tofu into a container filled with clean, filtered water. Stick it in the fridge to prolong its shelf life for about five days up to a week. Change the water daily to keep it fresh.
Read more: Recipes for your overripe food
6) Japanese Curry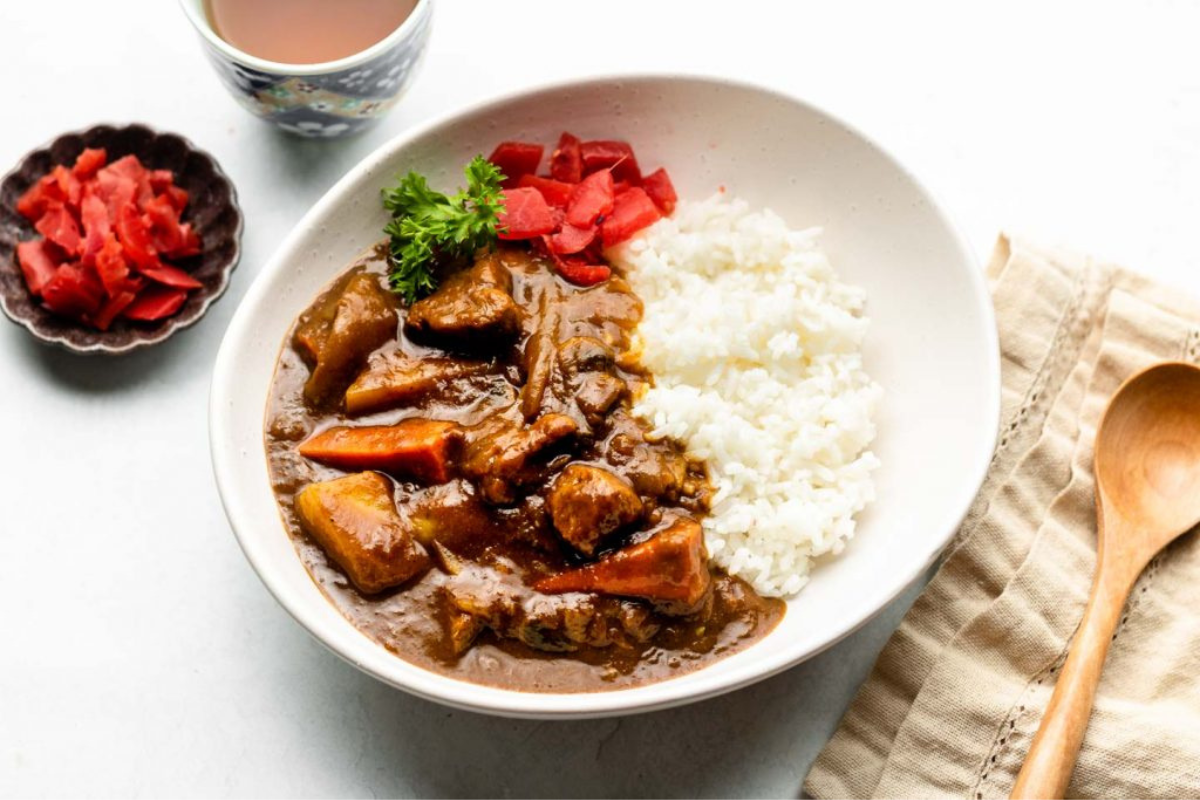 Image source: Okonomi Kitchen
Japanese curry is a cinch to put together with kitchen staples and it comes together in about 30 minutes. It's one of my favourite Meatless Monday recipes that got me through hell week in university.
You can also add mushrooms, tofu katsu, or eggplant katsu if you like! Here's an authentic vegan Japanese curry recipe by Okonomi Kitchen (it's gluten-free!). Serve it with fluffy steamed rice or udon.
Pro-tip: If you're living alone and you're lazy to halve the recipe, store the leftover in the fridge. And have it with noodles or wraps (you may need to add some slurry to thicken the curry) the next day.
The recipe adds kakushi aji ingredients like cocoa powder, instant coffee, and Worcester sauce. If you don't have it, skip them. I usually add ketchup and soy sauce only.
7) Hotteok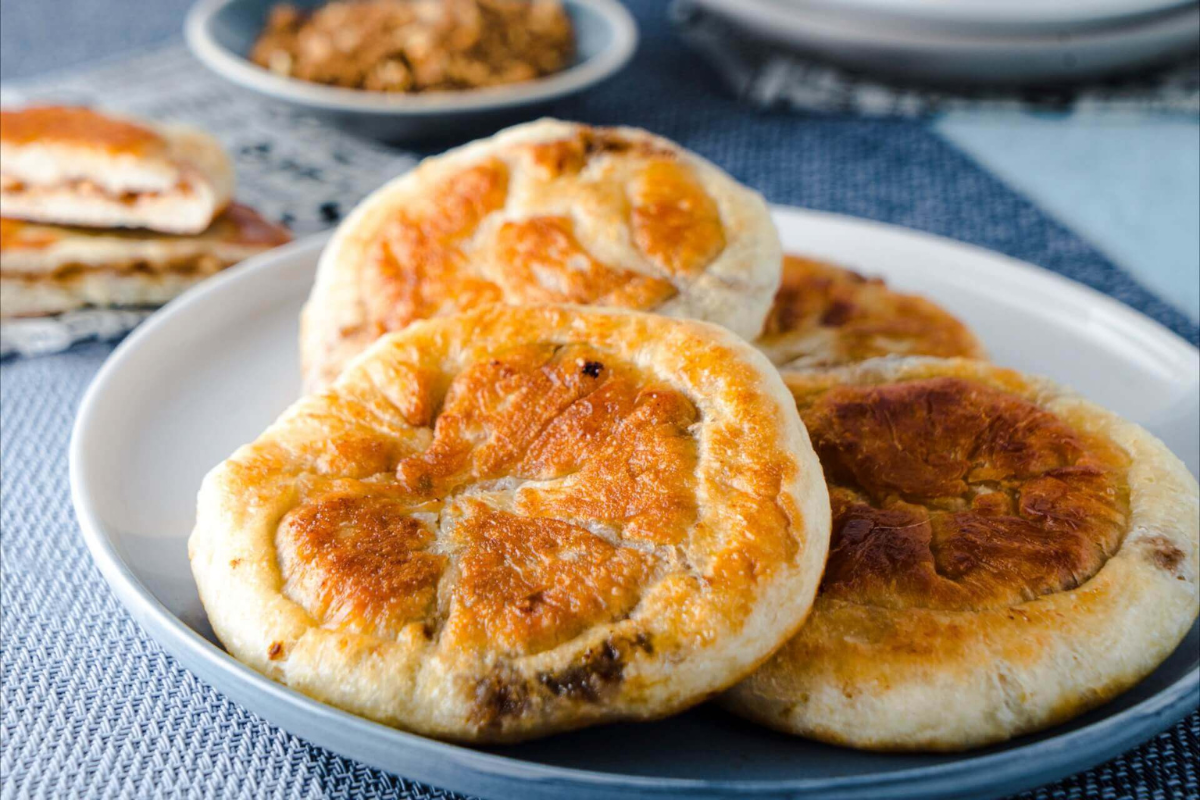 Image source: Asian Food Network
If you've never heard of hotteok, it's a Korean sweet pancake. It's crispy and chewy outside and sweet and gooey inside; once you sink your teeth onto the pan-fried dough, the brown sugar, cinnamon, and nut filling ooze right out.
You can easily find premix in a Korean grocery store, but I prefer to make it from scratch. I've got a sweet tooth, so these pancakes are my favourite snack/dessert, and it's a staple in my freezer. Here's my go-to recipe from SweetHailey on Youtube.
Pro-tip: you can use all-purpose flour if you don't have bread flour. If the dough seems dry, you can add some water. Don't add too much at one time, though.
Conversely, you can add some flour if the dough looks a little wet. Similarly, add about a teaspoon at a time. If you have plant milk on hand, you may use it in place of water. If you bought yeast just for this recipe, you can try other beginner-friendly recipes like focaccia.
8) Tong Sui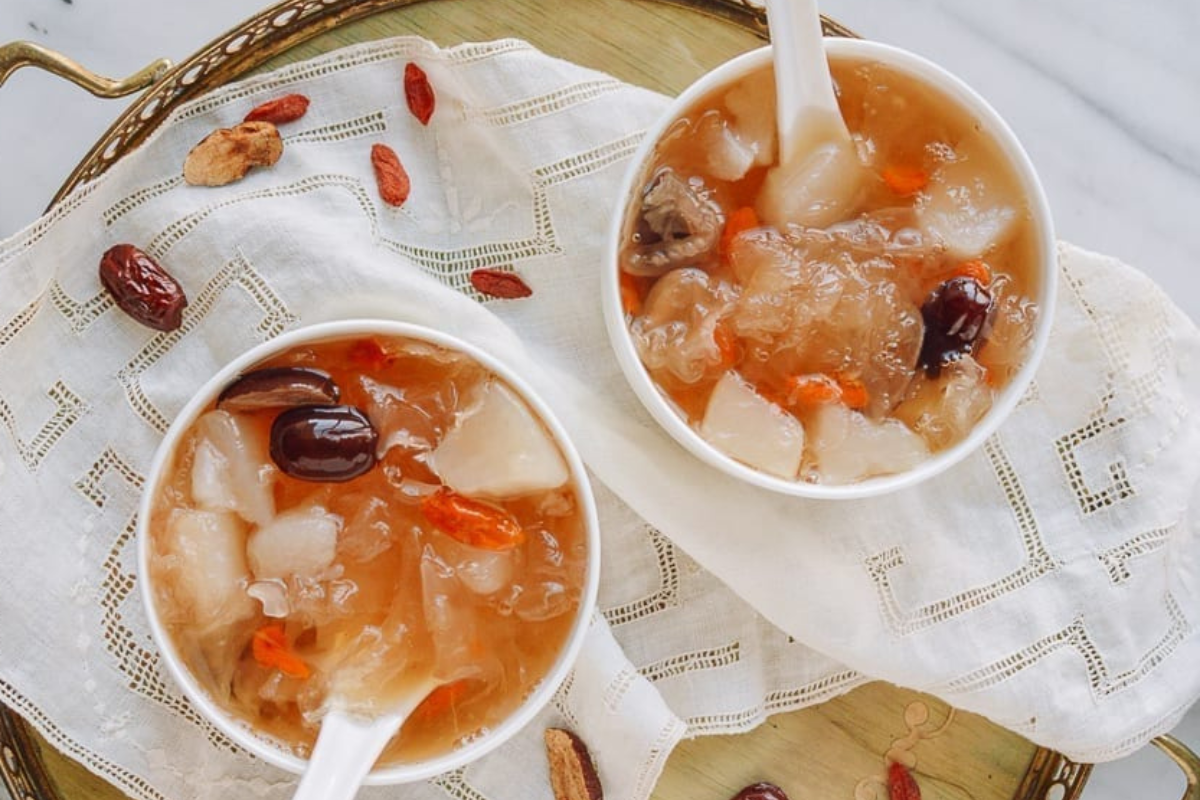 Image source: The Woks of Life
Most tong sui, also known as Cantonese dessert soup, are vegan. Growing up, I always looked forward to grandma's tong sui after dinner.
They are warm, comforting, and nourishing. These desserts are really easy to make, and the ingredients are pretty cheap and affordable. Simply prepare the ingredients, put everything in the pot and boil! It takes a bit of effort to presoak and clean the ingredients, but trust me; it'd be worth it.
Some of the easiest tong sui you can make are black glutinous rice and coconut milk, red/green bean soup, and sweet potato ginger soup.
But snow fungus soup with pears is my all-time favourite because it rejuvenates the skin and nourishes the lungs. Check out the recipe from The Woks of Life.
Pro-tip: the recipe calls for rock sugar, but I use maple syrup when I run out of rock sugar. You can also use honey if you're not vegan, but add it only when the soup is slightly cooled. Do not boil the soup with honey.
Tips to reduce food waste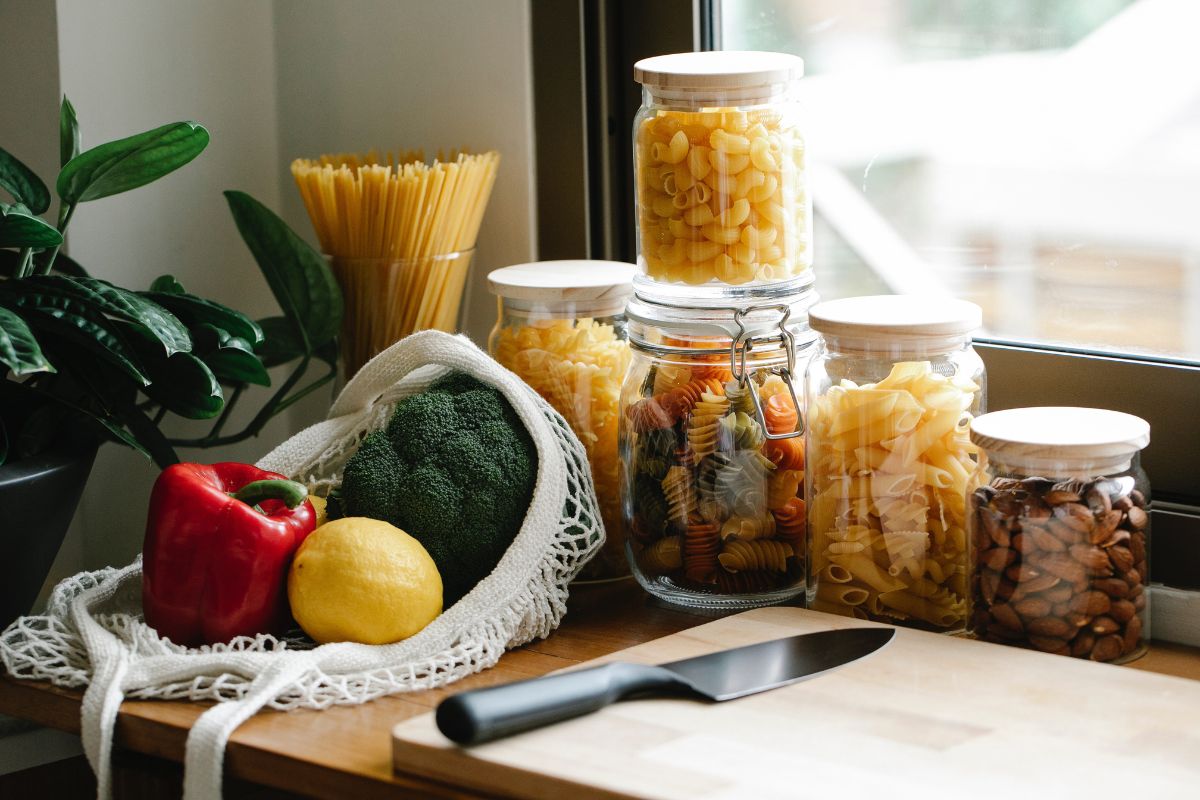 When you're new to the kitchen and trying out new Meatless Monday recipes, it's easy to rake up a lot of ingredients that you'd only use once or twice.
That can be pretty wasteful, and when you waste food, you're also wasting the emissions released from producing all the way to shipping and storing. It's also about respecting the food, farmers, and land!
Read more: Addressing the elephant in the room: how you can deal with food waste in Singapore
Here are some ways you can reduce food waste:
– Plan before you shop, so you don't get more than you need. Alternatively, you can buy from bulk food stores if you can. Also, try to get versatile ingredients, like potatoes, onions, mushrooms, and tofu.
– If you end up with leftovers, store them properly in the fridge and reinvent them the next day! Meatless Monday recipes aren't just for Mondays.
Leftover pasta sauce can be used for wraps. Leftover curry? Have it with udon or make curry puffs using puff pastry sheets. Don't throw away your food scraps! Freeze onions, scallions, garlic, and carrot scraps, and save them to make stock.
– This will be a little contradicting, considering that this article is about recipes. But sometimes, you got to ditch the recipe! One of Perling's strategies for wasting less food is to 'embrace no-recipe cooking'. There's no need to obsess over the nitty-gritty (unless you're baking, it's basically chemistry); if you don't have the ingredient, substitute it with something similar in your kitchen.
Look it up on Google if you're not sure. This will prevent you from stocking up on extra ingredients you may not use again. Freewheel your way into the kitchen! If you're interested, you can read Cooking at Home: Or, How I Learned to Stop Worrying About Recipes.
For more tips on storing your groceries properly and more, head over to Perling's piece for Wirecutter.
Meatless Monday can be easier when you make plans and commit to it. Don't be disheartened when you don't succeed on your first try; cooking is like a muscle. It gets better with practice. Now go on, get creative and expand your repertoire!