Have you always wondered about options to recycle and upcycle apart from the blue bin? Well, you will be glad to learn about Upcircle!
Upcircle makes recycling and upcycling accessible for anyone. They are launching a mobile application that matches users with usable items (that would otherwise have been discarded) to users who are in need of them. Through Upcircle, you can participate as a Contributor, a Creator, or both.
Contributors have usable items they no longer need and are willing to give them away. The app enables them to support meaningful initiatives through their contributions while reducing resource wastage.
Creators require different types of items and materials for projects of various nature – art, schoolwork, donations, upcycling, etc. The app enables them to showcase their initiatives to a wider community and obtain contributions.
Contributors and Creators can follow one another in the app and make use of the chat function to interact. (www.upcircle.app has a guide on how the app works, too!)
Let's find out how its founder's decluttering woes led to her starting Upcircle, and the exciting developments since then.

What Inspired You to Start Upcircle?

I've always hated the idea of things going to waste. The worst dilemmas are when I need to declutter my room – to throw or not to throw. Moving back from Berlin to Singapore into my old room, I had to finally clear out bags of old clothes, souvenirs, accessories and even electronic devices.
Yet, I was pretty certain there are people out there who could benefit from these items. Why don't I simply create a platform where users can regularly find out where to contribute different types of unwanted items to? Why not also enable the platform for individuals to request items that someone else might not want anymore?  
Having worked in consumer tech, I decided to create an app that enables crowdsourcing like Kickstarter, delivers inspirations like Pinterest, whilst enabling social interactions like Instagram. Voila, Upcircle was conceived.


Can You Tell us a Few Challenges You Faced While Launching Upcircle?
As the founder of Upcircle, even though I am familiar with tech ecosystems, I am not a software engineer. I am, therefore, unable to build the product myself and had to outsource the development. This meant incurring costs and relinquishing control over the app's readiness. Thankfully, cost-wise, we received some support through the NEA call-for-ideas grant.
As we launched the mobile app, we have curated a list of interesting initiatives that take in different things – from packaging materials to preloved clothes and used laptops. Yet, we are unable to exhaustively capture all the possible initiatives out there. But therein lies the excitement as well – there are endless possibilities to what can be reused, repurposed and transformed. 
Read More: Upcycling At Home – 5 Ways To Practice It  
For Those Who are Interested in Getting Involved with Upcircle, Can You Share 2 to 3 Quick and Easy Steps to Get Started?

1. Download the Upcircle app 
2. Sign up as a user. 
3. Browse and select from our list of community initiatives to contribute to.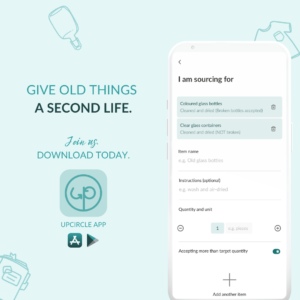 What Makes Upcircle Unique?
Upcircle is not just one initiative – we are many initiatives in one platform. We are the one platform that brings people together for recycling and upcycling.
What is the Main Goal for Upcircle and What Actions Will Be Taken to Achieve that Goal?

Our goal is to enable a more circular lifestyle. We will therefore be working on more collaborations with individuals, businesses, and communities to make it accessible for everyone to recycle and upcycle.
Read More: The Art Of Reusing Containers 
What Are Some of Your Future Plans for The Organisation?
We are constantly looking for feedback on how to improve features on the app and how to motivate more environmentally-driven lifestyle behaviour. 
We would like to enable consumers to be able to reuse, repurpose and recycle more and in better ways. As such, we are onboarding more interesting initiatives that could give second lives to different items. Especially with hard-to-recycle material types like plastic and glass, we are looking to work with partners who could extract value from them and figure out a way to mobilise our community of users behind them. 
As we reach deeper into the existing community of already eco-conscious consumers, we are also exploring ways to influence others who may not yet have environmental considerations. We believe in the power of nudging people in the right direction. And once we get people paying attention to the impact of their actions, we can start to shift paradigms.
The Upcircle app launched on 3 July. Check out the app at www.upcircle.app. Using the app is one of the easiest, yet impactful ways to kickstart your sustainability efforts!