Have you ever wanted to have a one-stop platform whereby you can gain access to BYO locations, recycling points, water refill stations, clothing swap places, charities to donate to, sustainable stores to purchase from, and many more?
Well, look no further, because Singapore now has our first lifestyle mobile platform for sustainable living – susGain! An integrated digital platform, susGain brings all four societal stakeholders of sustainability together at one place; consumers, community, businesses, and charity.
For every little step that you take towards sustainable living, susGain rewards you with cashback and points which you can spend at a partnering business or charity. They believe that protecting Mother Earth is a collective effort and that everyone, including you who are reading this, play an important role.
Dive deeper into susGain's story, their thoughts on sustainability, their road to drive change towards sustainability, and start incorporating small, sustainable habits into your lifestyle today!
What inspired you to start susGain?
We (Carolin & Jeebar) are a German-Singaporean couple who is both deeply passionate about sustainability and conscious living.
After returning to Singapore from a stint in the US and Netherlands, we noticed that the local sustainability movement is still far from hitting the critical masses. This is despite the fact that there is a growing number of green businesses and eco-preneurships in Singapore.
Drawing from our professional experience (Carolin has an HR consulting background and Jeebar works in Accounting/Finance) and our international exposure, we crunched our brains how we could play our part in driving the change towards a more sustainable Singapore.
After conducting market research, we realized stakeholders across all domains should come together and work collectively while creating mutual value. This is how the idea for susGain was born.
What do you think is your unique selling point?
susGain is an inclusive eco-system that creates a value gain for all stakeholders involved:
Consumers benefit from the free mobile app which provides hundreds of data points for green living in Singapore at their fingertips. They can collect points for eco-friendly habits, earn cash back rewards at eco-conscious businesses and automatically support a charity dear to their heart with each spend. SusGain simplifies the process of making green choices on the go. With the search function and map you can quickly find e.g. vegetarian restaurants, water refill stations, events, and eco-conscious partner businesses that are validated through our sustainability framework.
Businesses join susGain to feature their sustainable products and business practices to attract, engage and retain the fast-growing number of conscious consumers and strengthen their brand image and competitiveness.
Charities receive additional funding and can promote their cause to an audience that cares.
Communities benefit from the awareness gain and the increase in available sustainable lifestyle options in their area. We also work with partners, who offer education and volunteering opportunities related to sustainable causes. These partners benefit from susGain as rewards mechanism to incentivize their participants in a non-monetary yet meaningful way.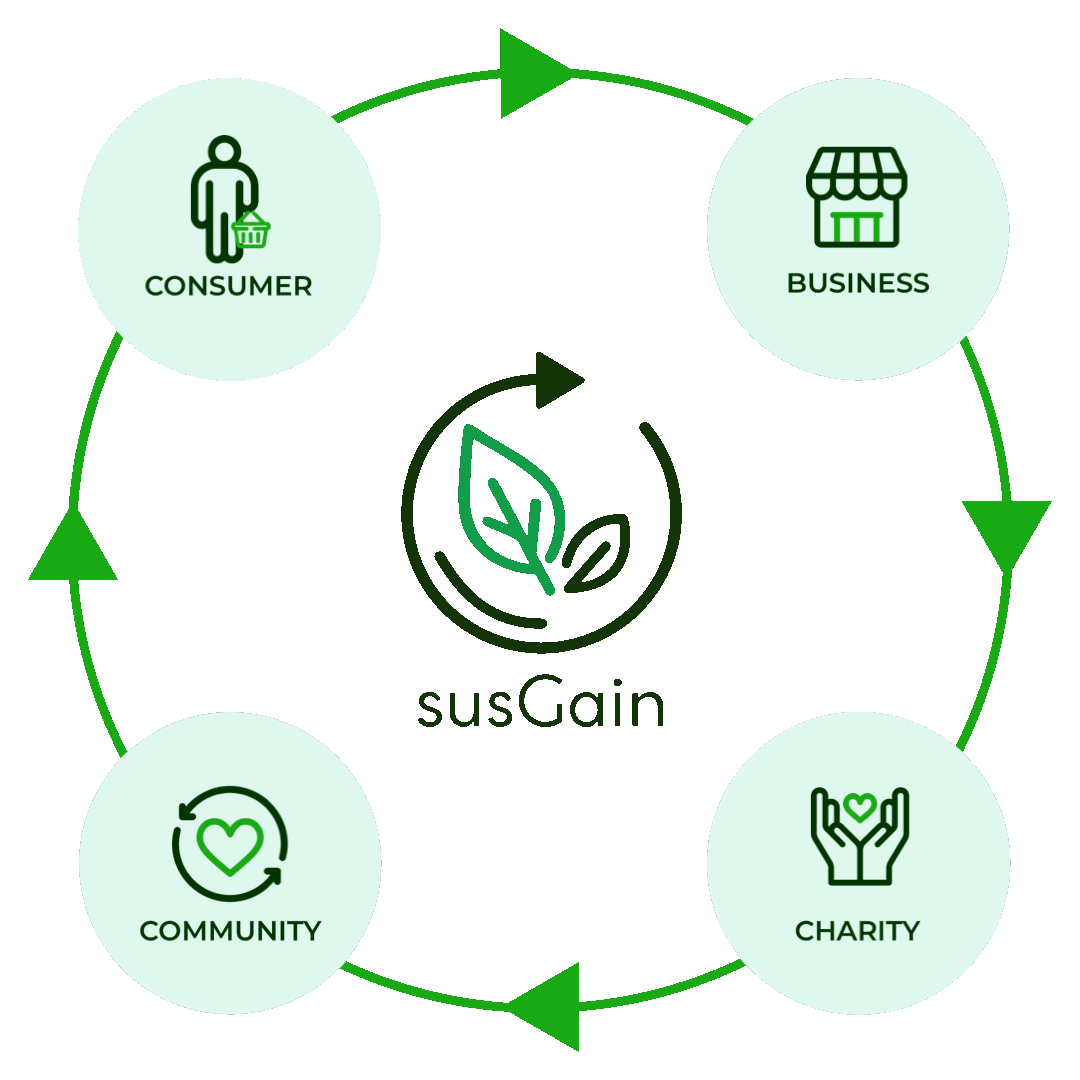 Can you tell us a few challenges you faced when you are starting out?
Same as everyone else, the speed in which COVID unfolded came as a surprise for us too. While we initially intended to launch with featuring physical stores, we had to pivot our approach and you will mainly see online stores on the app when we launch in a few weeks' time. We also had a series of events, public sign up drives and volunteering activities planned which we had to put on hold, instead, we pivoted towards focusing on our social media channels and produced a number of high-quality blog content eg on how to BYO during the circuit breaker, a guide to sustainable fashion in Singapore, a sustainability quiz and many more..
Understanding that susGain is launching soon, what are your expectations and thoughts in the execution?
susGain was founded in February 2020 and we have set ourselves a very ambitious goal to go live with a first published beta version in May 2020. Whilst the COVID situation and circuit breaker, of course, did not pass by unnoticed for us, we are now committed to launching in July.
For those who are interested in getting involved with susGain, can you share 2 to 3 quick and easy steps to get started?
The susGain app is designed to make it simple and convenient to kickstart a green journey. Putting it in Anne Marie Bonneau's words: "We don't need a handful of people doing zero waste perfectly. We need millions of people to do it imperfectly. "
For consumers, this is how the app works:
Pick a cause that you would like to support from a list of charities.
Browse and discover Eco-conscious stores, Water refill stations, Recycling points, BYO locations, Donation Points, Clothes swaps, Events … and more
Collect susGain points for your eco-conscious habits.
Enjoy cashback rewards at partnering businesses and support the charity dear to your heart each time you spend.
For businesses, you can become a susGain business in 3 simple steps:
Let's meet: Tell us more about your green products, sustainable practices, and ambitions. Together we will explore how susGain can help you feature those to attract new customers and increase loyalty and retention.
Working through the details: We will conduct a mini sustainability review in which we work with you to identify badges, jointly define a pledge and sign the partnership agreement.
We are excited to have you join our community! We will now design your app appearance, onboard your team members and provide you with our susGain starter kit.
How do you think support for sustainability and zero-waste lifestyle has changed, and in what ways? Are people more conscious of what they are purchasing?
While we are excited to see a growing awareness for sustainability in Singapore, especially among Millennials and Gen Z, there is still an "intention-action gap" that we need to bridge. Consumers want to see more brands being transparent about their purposes and sustainability efforts. However, they are not changing their purchasing behavior.
When we conceptualized susGain, we had a close look at how behavioral science can nudge consumers to get started with little green steps. Therefore, we decided on embedding elements of gamification, rewards, convenience, philanthropy, and social influence into the app to help them make that switch.
What are some ways you do to incorporate sustainability within the company and your daily lifestyles?
Over the past few years, Jeebar and I have been embarking on changing our lifestyles together with our 5-year-old daughter. Along the way, we adopted a minimalistic lifestyle possessing only what we need, and reducing waste as much as possible. For instance, composting our waste. We also reduce meat and dairy consumption in our eating habits. Furthermore, we focus on teaching our daughter about the eco-system and passing the right values to her.
As we are just starting up, we are currently in the midst of building our team. The top one criterion for team members to come on board is their passion for the cause. After the circuit breaker, we are planning to organize a meaningful team-bonding event, in the form of a beach cleanup or participation on a community project.
What is the main goal for susGain and what actions will you be taking to achieve the goal?
SusGain's vision is to create a world with social and environmental sustainability as the measure of personal and business success. What this means concretely is, we are working towards making sustainable lifestyle options the best, cheapest, and most convenient choices. This way, we can speed up the adoption by critical masses in Singapore. We believe that our partnerships with the various stakeholders are key to a collective effort that will make the difference.
What are your future plans for your business in terms of sustainability?
We have a lot of ambitious plans for how we can further increase our impact with susGain. For now, our focus lies on the upcoming app launch. Hence, do stay tuned for more to come!
Lastly, do you have any advice for businesses or individuals who are thinking of incorporating sustainable practices?
My first advice would be to join susGain. Secondly, get started with little green steps, easy-to-implement changes in behavior, or business processes. Also, stay committed in the long run. Have a look where you are in the sustainability journey and chose a realistic goal. While it takes around 2 to 3 months for a new habit to become second nature, most people that embark on the sustainability journey will never look back.