If you are scrolling around our online store and trying to figure out: do reusable facial rounds really work? What are they used for? Which material should I get – Flannel, cotton or terry cloth? How do I clean reusable facial rounds? Well, you have stumbled upon the right post.
What Are Reusable Facial Rounds?
Reusable facial rounds are essentially sustainable alternatives to your disposable cotton pads. You can use them to remove your makeup, remove your nail polish, apply your toner and so much more. You name it, just do it!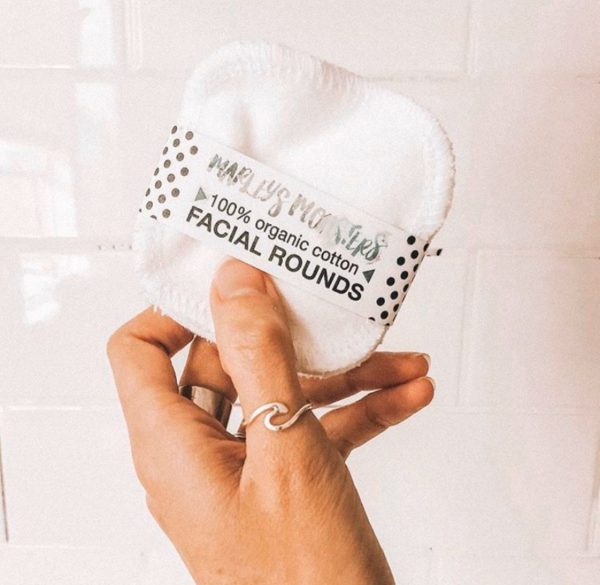 Organic cotton are natural fibres taken from the cotton plant. Soft and gentle on the skin, it suits people with sensitive or allergic skin.
Because of its natural properties, organic cotton products also tend to be more absorbent, and it gets more absorbent and softer after a few washes. This makes it more suitable to wipe off stubborn makeup, as it does not irritate your skin. Having said that, it is definitely safer for your skin.
Not to mention, it's also safer for the environment and its people. Organic cotton is grown and harvested without any pesticides or harmful chemicals, which makes the production process much more sustainable. Compared to conventional cotton, toxic farming chemicals are often used to prevent pests and insects.
These chemicals pollute the air, contaminate groundwater and agriculture, as well as increases the risk of soil erosion. In the absence of them, organic cotton farmers work under safer conditions but at the expense of labour.
Organic farming practices tend to be more labour-intensive because they have to manually cultivate their crops and remove weeds. Which is also why they are slightly pricier.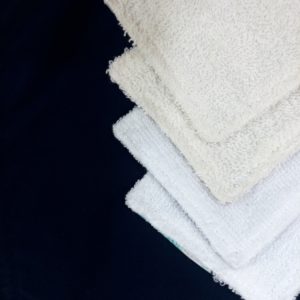 Terry cloth is the woven cotton fabric that your bath towels are normally made of. Compared to organic cotton and flannel, terry cloth facial rounds are rougher on your skin. However, it does get softer after a few washes, making it a bathroom essential.
We advise you to use this for cleansing, or scrubbing your face, removing make up or nail polish as it provides gentle exfoliation. Since terry cloths is traditionally made from cotton, they are known to be highly absorbent. Additionally, it gets stronger in water, making it extra durable!
Fun fact: Terry cloth is made using the terry weaving technique, it's history can be traced back all the way to 1841 in France!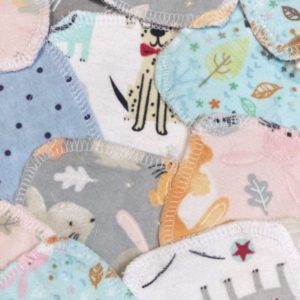 Flannel is a smooth, soft and thin fabric, which is comfortable for the skin but the least absorbent material of all three.
Having said that, this is great for applying skincare products like toner or serum, as it doesn't soak up too much product. You use lesser each time, and you spend less. Great life hack, right? If you are concerned about the absorbency, don't worry as it gets better after a few washes.
Your flannels outerwear share the similar material as our flannel facial rounds! Made from either wool, cotton or synthetic fibre, flannels are often used to make durable and fluffy clothing that can be recycled. Your pyjamas, bed sheets, underclothing and coats, they are all made from layers and layers of flannel to keep you warm and cosy.
Since some synthetic fibres are non-biodegradable, we bring in flannel facial rounds made from cotton which are easier to decompose!
How To Wash Reusable Facial Rounds?
Washing and caring your reusable facial rounds is important to prolong its durability. It is highly advised to wash the reusable facial rounds after use or keep it to a maximum of 1 day.  There are 2 methods of washing – machine wash or hand-wash.
For machine wash, simply put them in a small delicate laundry bag and add in mild detergent to wash. After which, you can air-dry or tumble-dry them but do avoid heat to prevent shrinking and preserve its quality.
Alternatively, you can hand-wash the reusable facial rounds with our probiotic laundry soap! Do treat them with care while washing and do not exert too much force as it might expand.
Lifespan
On average, reusable facial rounds can last around 5 years if its well-taken care of. Of course, you can always use them for more than 5 years if they are still functional! Do note that is dependant on how well you take care of the rounds and how frequent you use them.
End of Life Treatment
At the end of the product's life, toss the reusable facial rounds in your compost bin and they should slowly decompose within a week to five months. If you are unsure how long other fabrics take to decompose, this website should come in handy!
Now that you know everything about reusable facial rounds, shop and buy wisely. Every little step counts. So why not try kickstarting and investing in your zero-waste lifestyle here? Meanwhile, feel free to shoot out any burning questions you have in mind, I'll be more than happy to answer them 😊