Living a sustainable lifestyle is not only rewarding, it's also incredibly important. There are all sorts of ways, large and small, that you can help have a positive impact on the environment.
From the car that you drive, to the products that you buy, and even the food that you can eat, it's possible to have an impact every single day.
In this article, I'm offering up some tips on how to plan a low carbon footprint family vacation in the San Francisco Bay Area.
As you will see, there are plenty of ways to have a fun, memorable vacation, without doing any harm to the environment.
Hit The Road, But Just Once
I suppose you could stay home during your vacation and have a truly minimal carbon footprint. Indeed, a staycation can be a nice way to relax and charge your batteries. That said, sometimes a change of scenery can be nice.
If you want to keep things fairly low carbon, put your little one into a lightweight car seat, and hit the road. If you choose a vacation destination that is fairly close by, driving can be a perfectly fine way to get there.
This is particularly true if you have a hybrid or electric car. Better yet, taking a form of public transportation like train or bus might even reduce your carbon footprint further.
One of the keys is to pick a destination, and then to stay put once you arrive. If you are able to get around on foot during your vacation, you can minimize your impact on the environment.
On the other hand, if you take four flights to see different cities over the course of a two week vacation, your impact is going to be much higher.
Low Carbon Activities
Now that you know how to get there, just where should you go? There are all sorts of fun vacation activities that won't pollute the environment. Here are a few ideas:
Hiking
Going on a long hike, or several short ones can be a great escape from the day to day grind of life. It's also a great way to soak up nature's beauty. For kids, hikes offer a real sense of adventure and exploration. They might see new plants and animals that they have never seen before.
Beyond everything that you will see on a hike, the whole family is also going to get some exercise. Hiking at even a moderate pace is a great way to burn calories, particularly if you're moving on an incline.
If you're looking for good hiking in the Bay Area, check out Muir Woods. Walking on a path surrounded by redwood trees will truly make you feel like you're in another world. Muir Woods has a variety of trails, and many are kid friendly.
Feeling more ambitious? You might head over to Yosemite. While Muir Woods makes a nice day trip, you can spend several days or even a week hiking in Yosemite. There are beautiful sites everywhere you look, from Half Dome to Glacier's Point and many more.
Relaxing by the beach
A classic vacation destination for a good reason. There aren't many better ways to unwind than hanging out on the beach. While the beach may be a single destination, it offers a whole range of different activities.
Some parents enjoy sitting under a beach umbrella, reading a book and listening to the waves crash as they come to shore. For others, soaking in some rays and working on their tan is part of the fun.
For more active beach goers, there is surfing, body surfing or swimming in the ocean. Kids often have a blast running back and forth as the waves come in and out.
Beaches also offer a lot of open space. So, you might toss a frisbee around or play a little beach volleyball.
My favorite Bay Area beach destination is Santa Cruz. There is a gorgeous beach with great waves. There is also a boardwalk and lots of things to do and see around town. With so much ground to cover, you'll want to bring a good sand stroller along with you.
There are also great beaches in Half Moon Bay and Pacifica that are a little closer to the city if you're interested. These tend to be the favorites for people that like surfing and don't want to travel too far from San Francisco.
Camping
If you really want to minimize your footprint, spend a few days in a tent. Camping can really feel like an adventure for kids as well.
Camping is one of those great activities that can take a lot of different forms. Sleeping in a tent, close to nature can be an interesting experience in and of itself. But, there are also many different things that you can do during the day as a family.
Hiking and exploring in the woods is one really fun activity. If you go camping near a lake or river, you might try a little canoeing or kayaking as well. Fishing is also a possibility when you're near the water.
For good campgrounds near the city, head north to Marin County. You can get there by bike, ferry, or car if you're coming from the city and there are some really scenic places to pitch a tent.
One thing that is important to keep in mind when camping is not to leave any waste behind. It can be a good idea to bring a bag with you to collect any garbage that you create. That way, you will leave your campsite looking just as beautiful it looked when you found it.
Sight Seeing
Exploring a city can be a really enriching experience. Often times, you'll be able to get around on foot. You might even do a little biking if the city is fairly spread out. If you have a toddler bike, young kids can get in on the action.
Check out different art museums, architecture, city parks, and whatever else your vacation destination has to offer.
Most cities have an interesting variety of cuisine as well. So, walking around and site seeing is a great way to build up an appetite.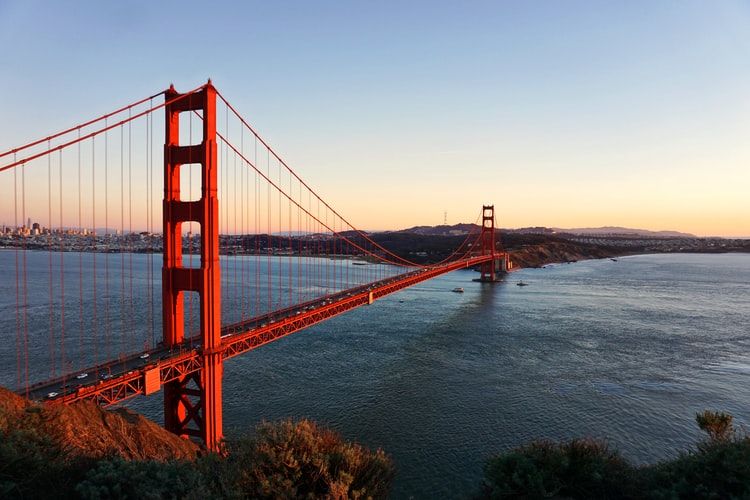 The Golden Gate Bridge is probably the most famous San Francisco landmark. But, the painted lady houses and Lombard Street are also quite a treat.
Eating
It can be a lot of fun to try to different foods while you're on vacation, and the San Francisco Bay Area has all sorts of great options.
If you make it to Berkeley, you might check out Chez Panisse, one of the early restaurant pioneers that prepares meals with ingredients that are locally sourced, and organically and sustainably grown.
There are also loads of farmers markets in the Bay Area. Whether you're in Marin, East Bay, in San Francisco, or on the Peninsula, you should have no trouble finding a good one.
These are great places to pick up fresh vegetables, breads, and other food, while also supporting local farmers. Check Local Harvest for schedules wherever you're staying.
Vacations can be a wonderful thing, and taking a low carbon footprint vacation is that much better.
Be sure to explain your reasoning to your kids as well so they understand the effort that you are making to have a low carbon footprint vacation.
If you lead by example, there is a really good chance that your kids will adopt this sort of behavior as they get older.
Author Bio: Ryan Howard runs Smart Parent Advice, a site that provides parenting advice for moms and dads. Ryan writes about all of the different ups and downs of parenting, provides solutions to common challenges, and reviews products that parents need to purchase for babies and toddlers.