It is that time of the year again. The year-end declutter, getting rid of your old items, doing a wipeout in the room because "new year, new me" and you want to get rid of all the items that no longer serve a purpose in your life.
With your many bags of used or even new items, you happily head down to the nearest Salvation Army to donate your items. "Yes, this will go to someone who needs it", you think to yourself.
And when you reach, the amount of donations given to The Salvation Army has grown into a heap that kind of reminds you of a mini landfill. Just like this.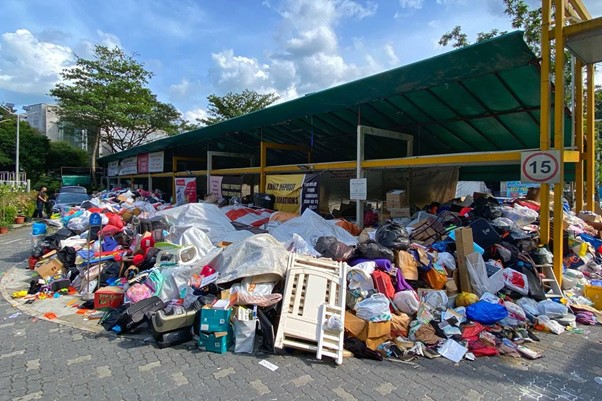 Donated items at The Salvation Army's booth in Tanglin Road on Dec 28, 2021. ST PHOTO: CHONG JUN LIANG
Did you know, The Salvation Army usually receives up to 10 tonnes of donations in kind per day, and the number triples during the month of December?
Can you imagine the amount of work the workers have to go through this period to sort out all these donations?
Plus, with the unpredictable weather, there is a high chance of the items donated might get in contact with rain and those products will be deemed to be unsuitable and into the landfill, it goes.
Now, don't get me wrong, I am not telling you not to donate to The Salvation Army.
But what we are trying to share is gifting courtesy, other avenues that you can consider when you wish to donate and the root cause for all these items you have at home.
Gifting Courtesy
Gift an item as you wish to receive it for yourself.
This is a general rule that you should follow when gifting items – whether it is clothes, food, books, furniture or any others. This is also whether you are donating, swapping or selling something that has been used by you.
Charities that take in donations should NEVER be considered as a dumping ground.
Here are some things you can do to ensure that your items are being placed to good use
– Ask the organisation: Take a picture of the items before donating
– Ask your family: Objectively, will they accept the items if it was given to them?
– Clean it or wipe it before donating
– Know the no-nos: Items that are dirty beyond used, not clean or washed, torn and cannot be mended, broken or damaged

Places to Rehome Your Items
Here is a list of places you can consider to rehome your items besides The  Salvation Army!
Everything
– Olio: OLIO connects neighbours and local businesses so surplus food and household items can be shared.
– Pass-It-On : Pass-It-On seeks to provide a meaningful way to distribute useful items to benefit the needy. Used items can be given a new lease of life!
– GoodHood.sg : One can chat with neighbours, offer/request help, buy/sell items and offer/list services.
– SG Freebies Telegram : Platform for users to donate items ranging from artworks to keychains.
– Upcircle : Gift your items to others who require them for their eco-projects.
Clothing
– Greensquare : Hopes to facilitate a change in recycling culture in Singapore through the collection of items at one's home.
– Metta Welfare Association: Dedicated to delivering social service programmes for individuals and families by collaborating with our donors, partners, vendors and community organisations
Books 
– National Library Board: One can donate his/her books at designated libraries across the island, giving others a chance to read up!
– Books Beyond Borders: A social business dedicated to expand educational opportunities in the developing world
– Thryft: Give second-hand books new lives to be loved and read again.
– A Million Books: Curate and sell preloved books and channel 100% of profits to tree planting initiatives in Singapore
Sell Your Pre-loved Items 
– Carousell
Root Cause
At the end of the day, the main root cause of the large number of products we have to donate goes back to the issue of – overconsumption.
Those items that you bought during the flash sales that you think will be great for you, those freebies were given to you, the extra items of the same thing that you keep buying. It highlights that we have much more items than we need.
I understand that it takes a lot of conscious and mindful effort to prevent impulse purchases.
Here are some questions you can ask yourself to ensure it is a conscious purchase.
– Is this a need or a want?
– Am I buying it because it is on sale, a trend or just cute?
– Are there any second-hand alternatives I can consider before purchasing a new one?
Having said that, do also ensure that you balance both your needs and wants so that you don't end up too miserable!
With the new year, I hope this is the year you make more conscious purchases and an effort to truly reflect on every purchase you make in your life 🙂