Grab – the everyday superapp. A brand that doesn't need any form of introduction.
We know them for providing ride-hailing services. We know them for enabling food delivery to be more convenient than before. We know them for allowing the transition to seamless cashless payments. Grab truly has made our everyday lives better.
So as the region's leading super app, what steps are they taking to ensure that their business is sustainable, especially when it comes to the environment?
As the brand begins its journey towards a greener future, here are some of its initiatives that caught our attention!
I remember being in Norway 3 years ago and seeing electric cars everywhere and I wondered to myself 'When will that happen to Singapore?'
Fast forward to 2021 and it is slowly being a reality now as our country takes a step towards using more electric cars! After all, we can expect to see 60,000 charging points nationwide by 2030.
So, it doesn't come as a surprise that Grab will be providing a new transport service type for consumers to choose from. The fleet will comprise only electric and hybrid vehicles* through the JustGrab Green ride function.
*Minimally VES A2 band (i.e. emit less than 125g of CO2 per km)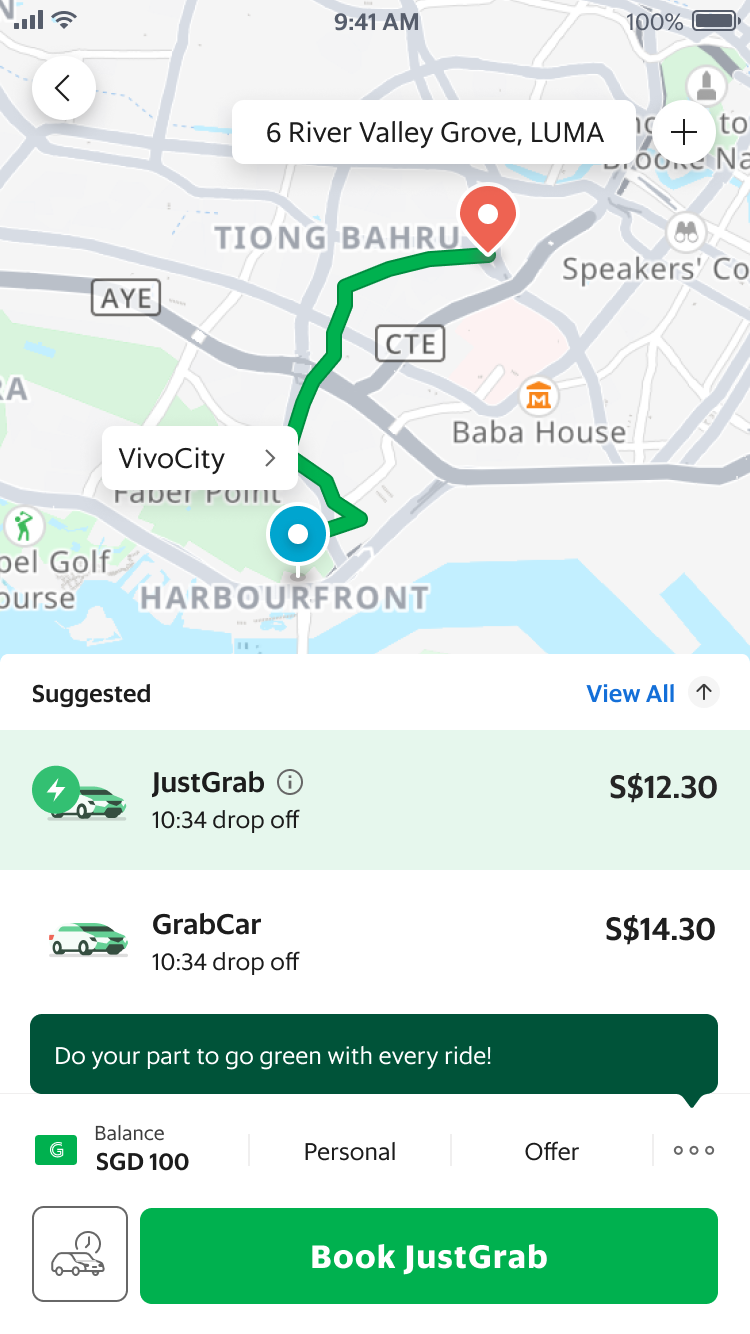 The best part? It is priced exactly the same as a JustGrab ride! So, if you are booking a ride in any of the following locations, make a small switch and select the JustGrab Green ride instead!
While this initiative isn't available islandwide just yet, Grab is taking steps to expand this service across Singapore. They are also aiming for a full fleet of vehicles running on cleaner energy by 2030!
Here are some other steps they're taking to adopt the use of cleaner-energy vehicles:
– Partnerships with seven auto companies to make it easier for their driver-partners to use electric vehicles or hybrids
– Grab and SP Group have a fleet partnership in Singapore that sees 200 fast-charging electric vehicles use SP's fast-charging network at discounted rates.
– Grab and Hyundai Motor Group have established an enhanced partnership that focuses on addressing the barriers of adopting EVs by piloting new EV business models such as leasing EVs with a battery-as-a-service model or car-as-a-service model, and EV financing.
Say hello to more electric vehicles in the coming years!
The Green Programme – Grab's Commitment To The Environment
Carbon Credits
From 14th July, with every Grab ride you take, you can choose to offset your carbon footprint emitted through that ride with carbon credits!
If you are new to the concept of carbon credits, it is essentially measurable emission reductions from various climate projects. These projects can help to reduce, avoid or remove greenhouse gas emissions.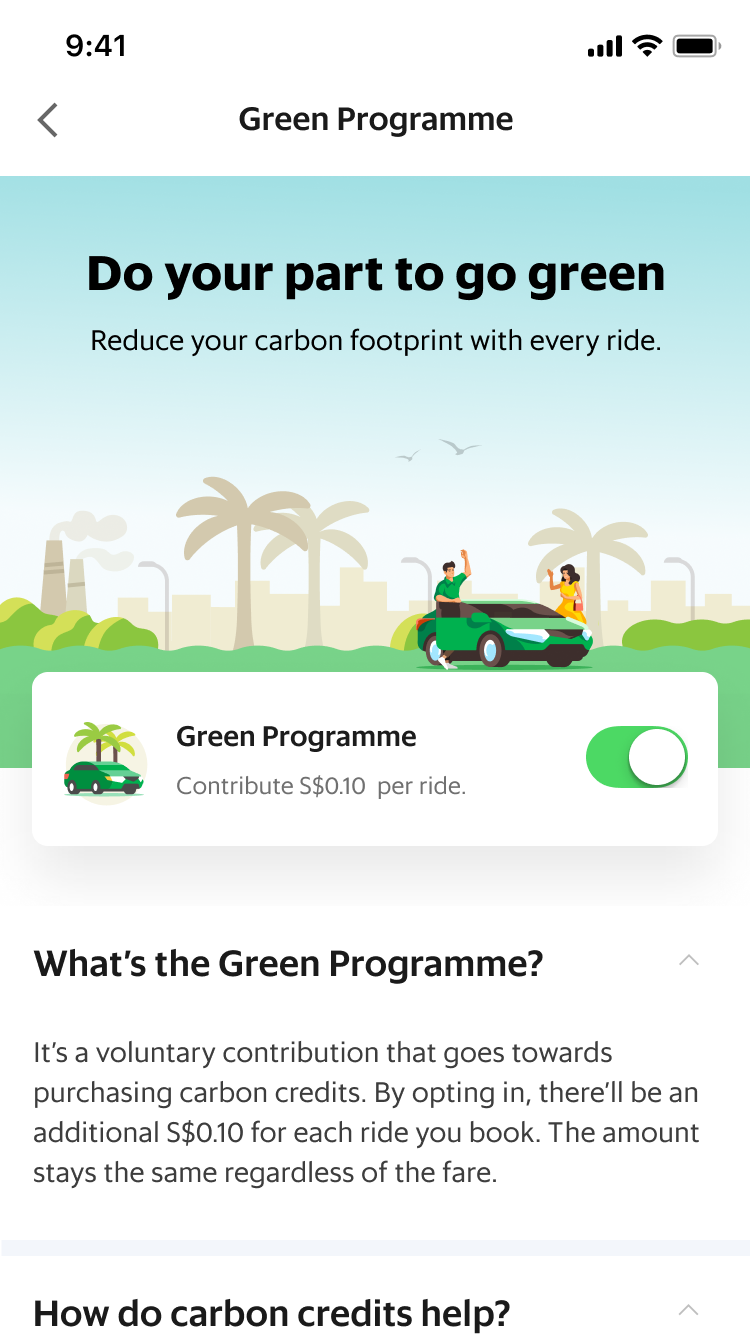 Simply opt-in with a nominal fee of $0.10 per ride. Your voluntary contribution will fund carbon offset projects, such as supporting at-risk forests in Indonesia and solarisation efforts in Singapore.  Grab has also committed to matching the same amount per ride, up to 3 million rides.
Here's one example of where your contribution will go: Grab will be collaborating with Shell to purchase carbon credits generated from the Katingan Mentaya Project in Indonesia. The project restores natural forests and conserves peatland habitats, preventing the release of greenhouse gases equivalent to 447 million tonnes of carbon dioxide over 60 years.
We understand that you might argue that carbon credits are not the solution to carbon emissions. But given that Grab emits 1.5m tonnes of carbon dioxide and is working on progressing to cleaner transport alternatives, this is the best option to reduce their emissions. Ultimately, a step towards the right direction is better than nothing at all 😊
Sunny Solar Singapore
Based on our SG Green Plan, the government aims to increase solar deployment to 1.5 giga-watt peak (GWp) by 2025. Coupled with the recent news of Singapore having the first large-scale solar farm, it doesn't come as a surprise that supporting Singapore's solarisation efforts is another step Grab is taking. Your contribution to The Green Programme also helps to fund solarisation efforts!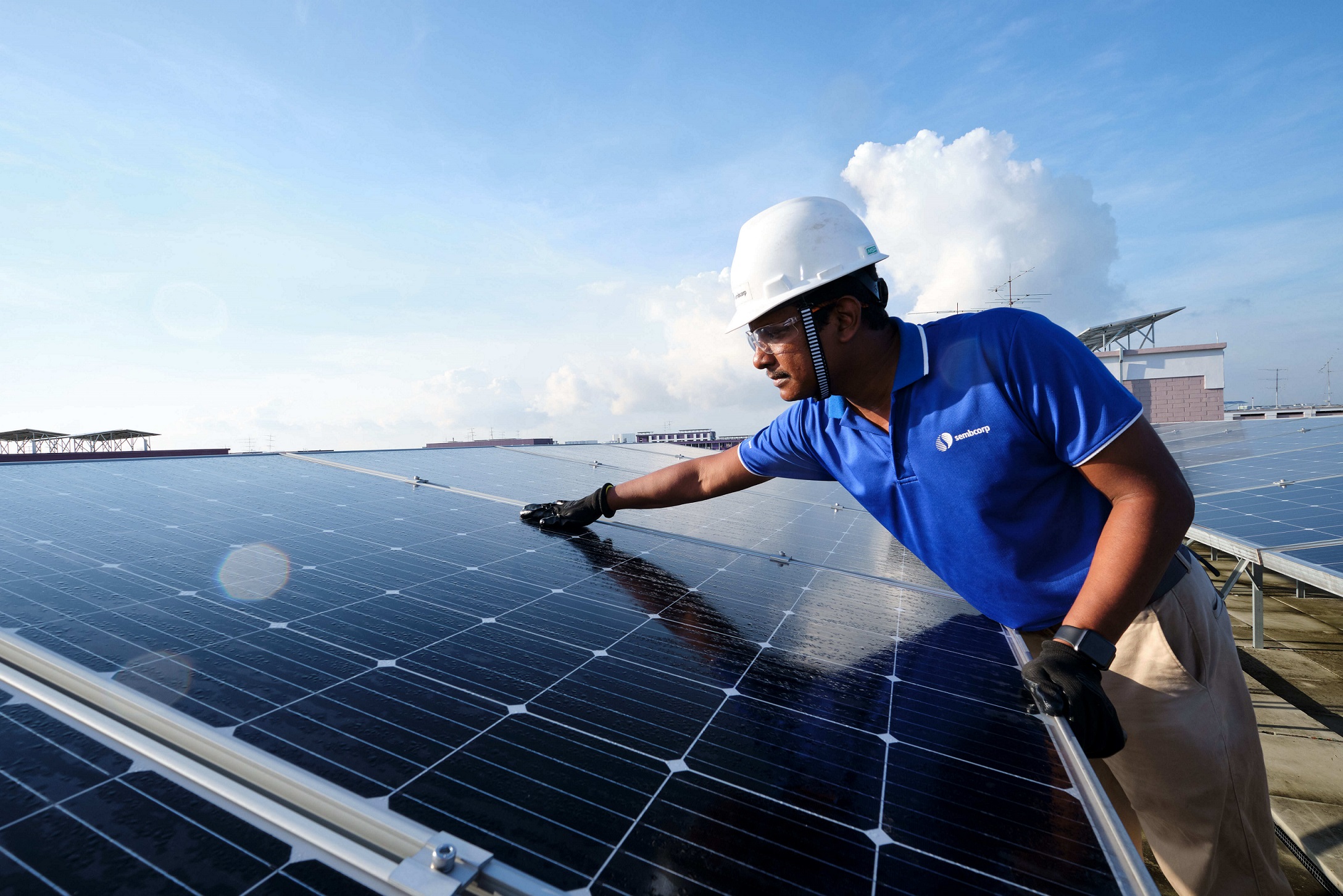 Image Credit: Sembcorp
Grab will collaborate with Sembcorp Industries to support the rooftop solarisation of community institutions (e.g. nursing homes, community centres) in Singapore. The collaboration includes identifying solarisation projects jointly between the two companies, with Sembcorp helping to develop, operate and maintain the solar systems.
Keep your eyes peeled, as our little sunny island is finally harnessing the beauty of the Sun!
Reducing Disposable Waste
I am going to admit that whenever I see Grab deliveries and the disposables that go along with it, my climate anxiety does get heightened slightly.
Thoughts like"How much waste is being produced? Can we BYO? Are the F&Bs going to do anything to reduce their waste?" go through my head.
Of course, being realistic, it takes a lot of commitment and understanding for F&Bs to take steps to reduce waste, and many would not place sustainability as a focus before financial sustainability. I totally understand that 😊
So, it is heartening to see that Grab is taking baby steps to slowly convince their partners to make small switches for the betterment of the environment.
Here are some examples:
– Default opt-out cutlery option which helped save close to 380 million sets of cutlery in 2020
– Over 100 merchant outlets using reusable packaging from Muuse and barePack (Be sure to check them out if you want to BYO!)
– Sourcing for and negotiating with eco-packaging suppliers on behalf of GrabFood merchant-partners
One step is better than none taken, and I hope with these small nudges, businesses will find it easier to adopt eco-friendly measures in their sustainability journey.
Upcycled Grab Backpack Anyone?
As more organisations are taking steps to redirect their waste from the landfill through upcycling, Grab is also doing the same! Most of us are familiar with the iconic green GrabFood delivery bags — when you order delivery through Grab, your order is placed in an insulated bag to ensure the food is hot when it reaches you.
Who would have suspected that these bags would be a potential waste generator?
Since the bag has multiple materials bound together and is of a composite nature, recycling it is difficult and expensive.  The next best option to recycling is extending the life of the item as long as possible through means like repairing, reusing or upcycling.
That is exactly what Grab did!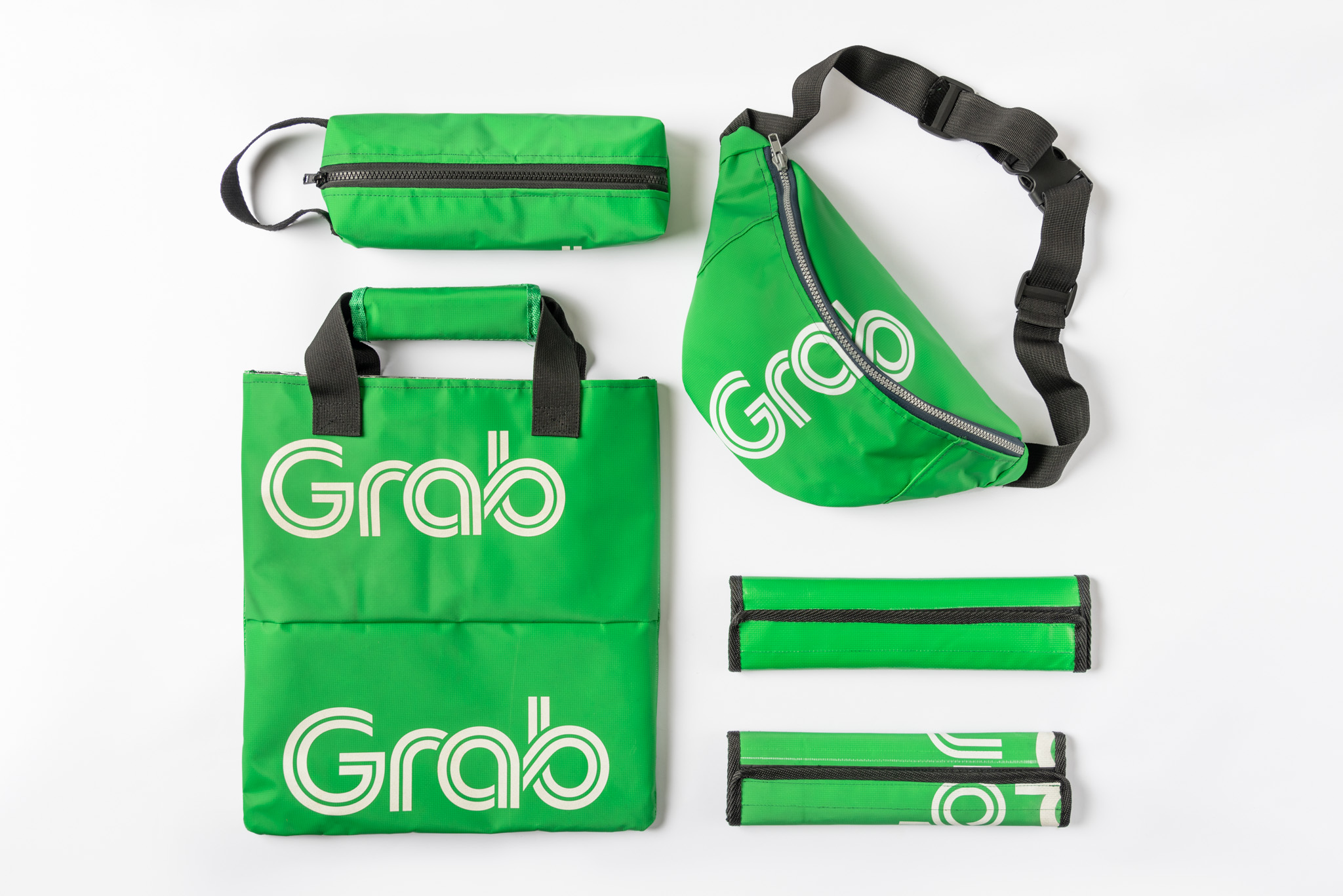 To give the bags a new lease on life, Grab's team in Malaysia worked with Suri Lifestyle and designer Neng Kho Razali to turn the used bags into new items such as tote bags, fanny packs and pencil cases.
How cool is that? Talk about upcycling goals!
As we make a continuous effort to commit to sustainability and work towards our goals set out in the Paris Agreement and SG Green Plan, one thing is clear: sustainability is a combined effort.
All parties – individuals, small businesses, organisations, government bodies – must work hand in hand to make progressive steps for the environment. Incorporating sustainable habits and combating climate change is a fight more urgent than ever.
It is heartening to see Grab take actionable steps in their journey towards sustainability and I hope more organisations will take more committed steps for the environment to the best of their ability. Because if we don't do it now, then when?
——–
This blog post is sponsored by Grab. Thank you for allowing us to continue sharing about sustainability in Singapore.