Waterways Watch Society is a non-governmental and non-profit environmental organization, committed to foster appreciation and promote conservation of our environment, especially the waterways in Singapore.
Established in 1998, our mission is to bring people together to love our waters and to inspire stewardship for our environment.
In the 1970s, Singapore's late Founding Father and Prime Minister Lee Kuan Yew decided to clean-up the Singapore River. After the Singapore River and Kallang River Clean-up, the Government Parliamentary Committee (Environment) decided in 1997 that there was a need for an organization to help monitor and protect the clean-up.
We conducted an interview with Mr Eugene Heng, founder of Waterways Watch Society, who was then in the aforementioned Government Parliamentary Committee (Environment)!
Mr Heng was the one nominated to set up Waterways Watch Society, and he provides us with insight into the efforts of Waterways Watch Society to encourage public appreciation of our clean waterways.
The current logo is a minimalistic version of our old logo which consists of a fish. The red dot is actually the eye of a fish! There is meaning behind the choice of each colour:
Red: represents the danger of the negative impacts of our actions to the environment
Green: represents the importance of a sustainable environment
Blue: represents the importance of having clean and safe water
Can you give a brief overview of how trash accumulates in our local waterways? Where do all this litter originate from, and what kind of trash is most commonly found?
Today, not many understand that over two-third of our island's land surface is Singapore's water-catchment which collects and channel rainwater into our 17 reservoirs through a network of rivers, canals and drains. Going forward, by 2030, our water catchment is set to increase to 90% of our land area.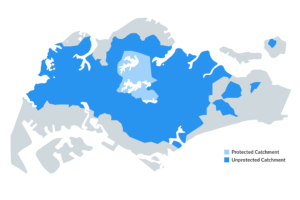 Singapore's water catchment area! Source: https://www.pub.gov.sg/watersupply/fournationaltaps/localcatchmentwater
Unfortunately, if you look into our drains today, you can find many trash in the waters and sometimes even oil. The trash could be deliberately thrown into our drains, or washed by rain, or blown by the wind from land where they were left behind by people. Trash can accumulate and flows with our waters into the reservoirs. This often clogs up our drains and can cause stagnant water.
With most of our land surface being part of our water catchment area, the trash can originate from anywhere. The most commonly found trash during our programmes and member patrols are cigarette butts, plastic bags, straws, snack packaging/sweet wrappers/tissue packaging, and soft drink cans.
Many do not know that our drains feed into our reservoirs, one of our drinking water sources. Therefore, they do not understand why there must be good social behaviour (responsible littering) to protect our water sources. There is still a strong lack of action by our people.
Why is ensuring the cleanliness of our local waterways so important? Why is it so important to ensure environmental stewardship in protecting our local waters?
It's simple. Our reservoirs are one of our Four National Taps, our source of drinking water.
Would you want your water source to be filled with trash, dead animals, microplastics and other forms of rubbish? In Singapore, we can get clean, safe water directly from the tap thanks to the advanced treatment of the collected water by our national water agency, Public Utilities Board (PUB).
With our water demand increasing and the challenge of climate change today, ensuring our nation's water sustainability requires everyone to play a part in using less water and keep our waters clean. Having clean and pristine local water sources will also reflect Singapore's image as a truly clean and green city with responsible citizens.
Is it possible to give a brief account of the magnitude of resources that goes into cleaning our waterways?
For Marina Reservoir, PUB employs cleaning contractors to help clear up the trash in our waterways every day.
There are cleaners on boats driving around the reservoir to scoop up rubbish at least 12 hours a day 365 days a year. There are also cleaners walking along the shoreline to pick up rubbish and devices like float booms, litter traps and gratings, placed at specific locations of canals and drains to collect litter.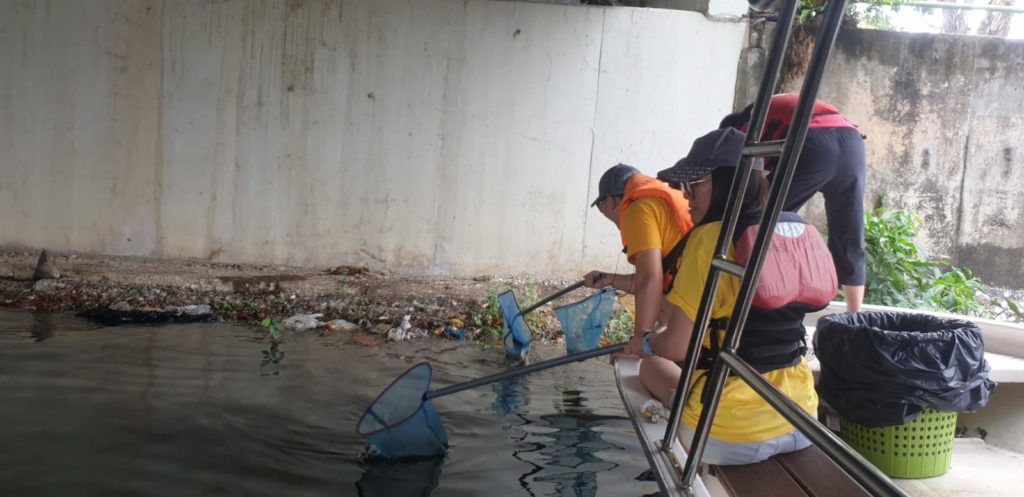 Keeping the public areas around our waterways clean also helps in ensuring our waterways litter-free.
Hence, it is a collective effort on both land and water. It is costly and a lot of work to ensure we remain clean whereas the better solution is to curb irresponsible littering by prevention. You can refer to the websites of PUB and NEA for more information.
Do you have any interesting stories to share about your experiences cleaning up Singapore's waterways? For example, any interesting trash you've picked up, or interesting biodiversity that you see?
We have found lampposts, electric toy car, shared bikes, chairs, washing machine and even dustbin. You name it, we have probably picked it up. We often post interesting (or outrageous) trash on our Facebook and Instagram.
There are also a lot of interesting wildlife in our waterways such as the monitor lizard, smooth-coated otter families, water hen, barn owl and herons. Often, we find live and dead fishes trapped in plastic bags, and red-eared sliders hooked by fishing lines.
Hence, it is also very important to keep our waterways clean to sustain our rich biodiversity.
What are some of the activities that Waterways Watch Society organizes for the public? What can participants expect to learn from them, and how do these activities help realize Waterways Watch Society's vision, mission and / or goals?
We offer a variety of clean-up activities on foot, bike, kayak, boat and pedal-boat at our waterways. Our programmes place great emphasis on experiential learning. Incorporating fun into learning is also a big part as we hope our participants to enjoy our waters. Hence, we provide a wide range of outdoor clean-up activities.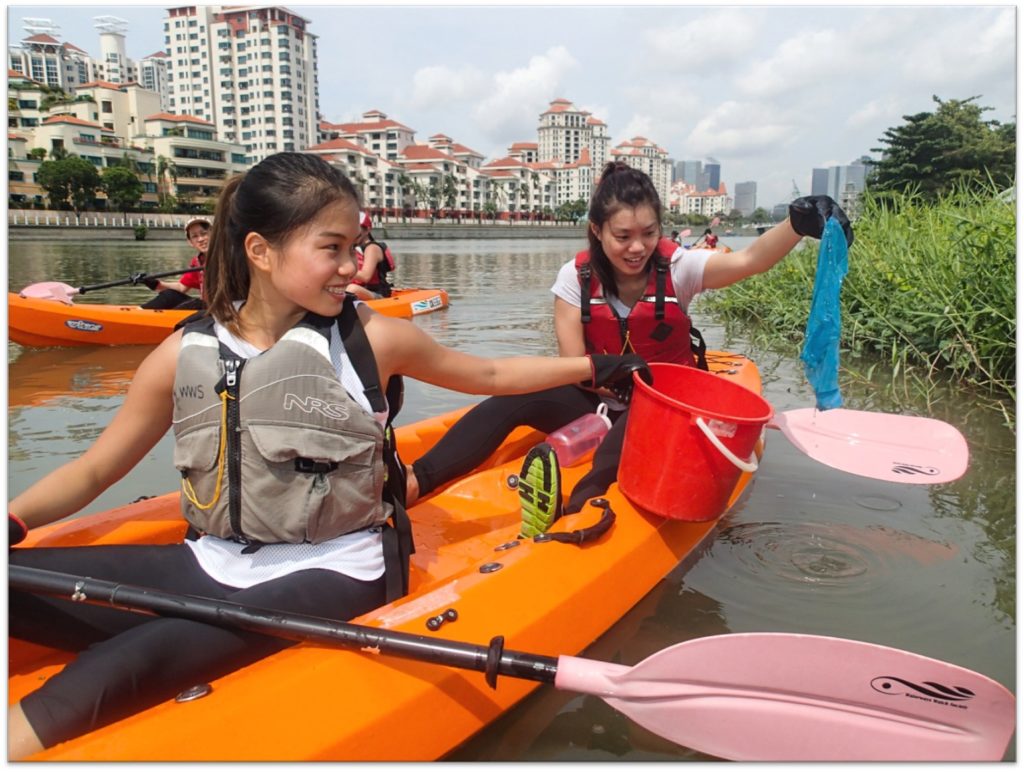 "Show and Tell" is an important part of our programmes.
It's a Values-in-Action program. It is crucial to offer participants the opportunity to get close to the water and find out for themselves on the problems of litter pollution in our water resource. The frequent encounter with plastic bottles, plastic bags, packaging and other trash will help highlight our concerns on how our environment and waters are being polluted and littered.
Hopefully, this can encourage participants to take action in improving the water situation. Many (if not most) will always leave our premises after our programmes and comment that they "did not know" that our waters can be so dirty. Now that they know, we hope they reflect on what they can be doing to keep our waters clean.
It's been more than 20 years since this organisation was founded – what were some challenges faced along the way?
Our organization relies heavily on the support of our volunteers to run our activities. Hence, it has always been a challenge to find committed and passionate volunteers who stay long with us.
Another challenge is getting funding to sustain our organization's needs and operational costs. As we are dealing with the intangible – air and water and the environment, this continues to be challenging.
Do you think public support has changed over the years, and in what ways? Are people more conscious of the need to protect local waterways?
Public support has definitely changed over the years. More people are aware either through social media, public news or even through our programmes.
As we begin to receive more enquiries about our programmes, as we see a constant intake of new member applications, the mood is right to conclude that more are aware.
We also see increase in engagement through our social media platforms. But many perhaps still do not know how to act and contribute to protect our local waterways.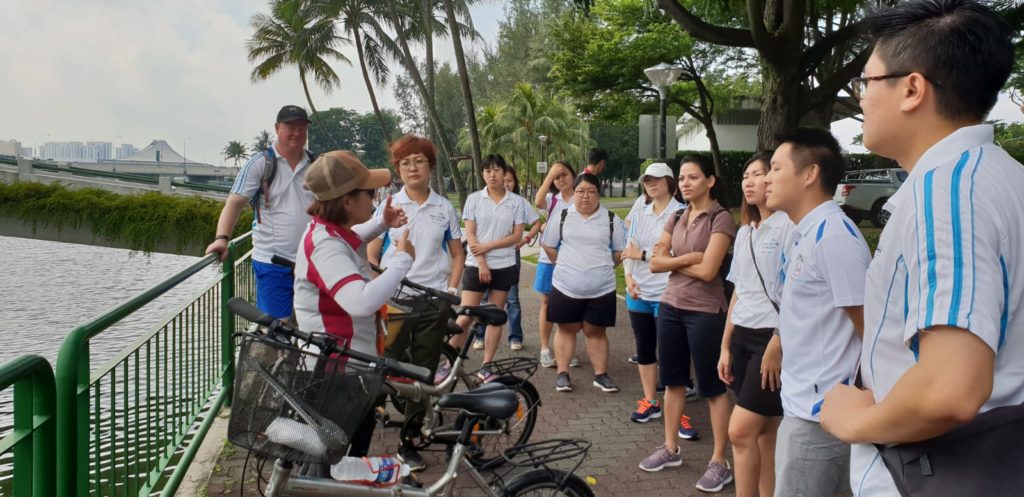 How can the general public contribute to protecting our waterways in their daily lives?
Don't litter. Be responsible of your own waste and try to adopt a waste-lite lifestyle. Help to pick up any litter you see along the way before they get into our waterways. It might not be left by you, but ignoring it also means you are encouraging littering. One of our staff, who is 70 years old, picks up trash almost every day when he goes for lunch.
People can also volunteer with WWS and participate in our regular member patrols. There are many ways in which the public can contribute. It's all about having the will and determination to make a change. Small actions by individuals can make a difference.
We have recently expanded with a second branch office at Lakeside Gardens. Our first branch office was at Punggol Waterways.
Our branch offices serve to help us reach out to the residents in the neighborhood and recruit like-minded individuals to volunteer with us in keeping our waters and environment clean.
With our main office at Kallang (outside Marina Reservoir), our plans have always been to conduct more environmental educational programmes with schools and corporates to widen our outreach efforts.
There are still many people who do not understand the challenges we face in water sustainability and how they relate to our daily lives, as our water supply management has been so good that many take water for granted.