Marine pollution has been a major issue that has been garnering attention across the world over the past few years. From pictures of shores full of plastic waste to videos of plastic straws getting stuck in the nose of turtles, these images have left an impactful impression on many individuals and spurred them to take action towards marine conservation. This inspired Ocean Movement to be formed, you might be wondering " What is Ocean Movement?"
Story of Ocean Movement
Five 17-year-old students from School of The Arts Singapore started The Ocean Movement back in 2017.
What inspires the group to start raising awareness about marine life was the founder of the group who was an aspiring marine conservationist. Since then, The Ocean Movement has conducted a session sharing with their school on common problems that marine ecosystem faces.
The topics include climate change, plastic pollution and overfishing. In addition, they initiated the sale of reusable straws in SOTA which successfully sold about 80 straws.
Upcoming event to look forward
Over the past few months, the group's objective also transformed into raising awareness about marine life particularly in Singapore. In addition to that, we create platforms for students in our school and the public to contribute towards conservation efforts.
Making reusable goods accessible and creating avenues where different environmental groups can work together towards a common goal of saving our environment helps to achieve the objective.
Coming this February, The Ocean Movement is organising an event – TIDAL.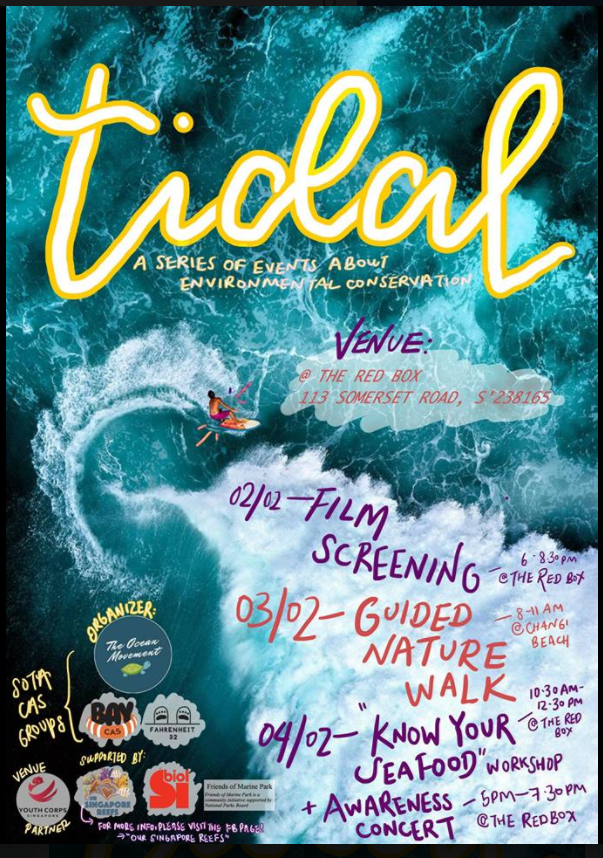 Various organisations brought together TIDAL is a series of environmental events.
The first 2 events in the series include a film screening of 'A Plastic Ocean' with a post-screening dialogue as well as a guided coastal walk/beach clean-up.
In addition, a 'Know Your Seafood' Workshop by SiBiol will be conducted on 4th Feb from 10.30 am – 12.30pm. One can observe the dissection of common seafood in an aid to explain how marine organisms function.
What to expect on that day?
Awareness concert held on 4th Feb from 5 pm to 7.30pm is the highlight of TIDAL. Environment will be the theme of TIDAL.
There will be acoustic performances by local performers and students from SOTA, various fringe events, booths selling sustainable products and booths.
When you visit the booths, you can learn how to make reusable goods out of recyclable materials or how to make your own compost bin.
All the above events are completely FREE OF CHARGE so what are you waiting for? As there are limited seats for each event, do sign up quick!
Be sure to support these young inspirational individuals and support them in their cause towards marine conservation!