In September this year, the Singapore Institute of Directors held the inaugural Singapore Sustainability Reporting Awards (SSRA) which aims to encourage and recognise excellence in sustainability reporting among Singapore listed companies.  Of all the participants, CDL was honoured for producing the best sustainability report for established reporters or firms that have long been producing reports on sustainability.
Here are some highlights of the sustainability actions that CDL has reported in their Integrated Sustainability Report 2017: 
My TreeHouse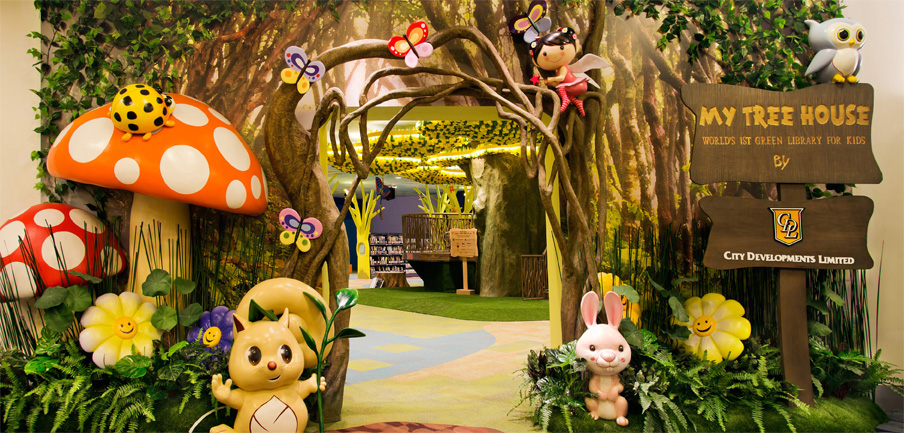 Built using eco-friendly and recycled materials, My Tree House boasts an eco-centric book collection, interactive green features and programmes. Hence, it enable children to learn and discover about our natural environment, especially during their formative years.
The library is a collaboration between the National Library Board (NLB) and CDL. Above all, a third of the 45,000 books in this library are green-themed covering on animals, plants, nature, water, weather, environment, recycling, and climate change.
My TreeHouse is located at the Central Public Library located within the National Library Building. In 2016, it received a visitorship of over 312,500.
Engaging Tenants on Resource Efficiency
Tenant electricity usage accounts for close to 50% of electricity consumption in CDL's office and retail buildings. Hence, to support efforts in reducing energy consumption and environmental footprint, CDL implemented the CDL Green Lease Partnership Programme in 2014.
To enable tenants to track and better manage their energy usage, CDL and Tuas Power developed a digital energy monitoring portal. In addition to the "green fit-out" guide issued to all tenants, CDL created a dedicated team of CDL Green Lease Ambassadors to guide tenants on how they can create more environmentally-friendly premises by adopting sustainable practices, designs, materials, fittings, equipment, and lighting fixtures.
The Ambassadors also helped identify energy-saving opportunities to lower tenants' operating costs.
As of end 2016, more than 95% of  CDL's tenants have pledged their commitment to the CDL Green Lease Partnership Programme. They signed a Green Lease Memorandum of Understanding as part of lease renewal.
Find out more about the green lease and tenant agreement here!
Twin Chute Pneumatic Waste Collection System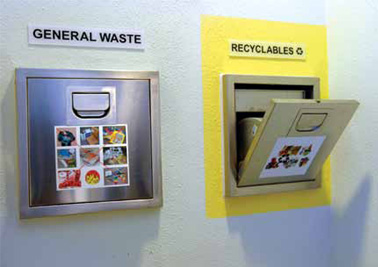 This is an eco-friendly waste management system that utilises air suction to convey general waste and recyclable waste separately. The entire refuse disposal and removal process is clean, odourless and vector-free. Other than that, it requires less manpower to manage, reducing costs while encouraging recycling.
Themed "Towards Zero Waste!", the 6th edition of this biennial award draws inspiration from the circular economy and Singapore's vision of becoming a zero waste nation by 2030. The competition invites participants to design sculptures with residual materials from the construction of the Singapore Sustainability Academy.
Even more, CDL hopes to shift mindsets and change behaviour from a linear "take-make-dispose" model to a more circular one. In which resources are circulated back into the economy and used for as long as possible.
Furthermore, their integrated Sustainability Report has more details about the company's environmental commitment and actions. Read it here!