Would you believe me if I told you it was possible to eat hotel standard food for affordable prices? Not only this but also being able to help to reduce food waste at the same time? Well if you didn't already know, this is already a very real possibility made available using treatsure!
treatsure is an app that offers a new take on redistributing both cooked and uncooked food for affordable prices.
They partner with hotels that serve buffets to let customers pack food away in the last 30 – 60 min of each buffet meal slot from prices as low as $10 per box! These boxes (also known as treatsure boxes) are given at the restaurant after making payment and act as an 'admission ticket' of sorts to proceed with their packing.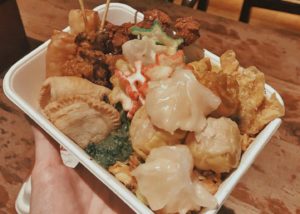 Since Covid-19 has hit, buffets are no longer running as per normal. However, that does not mean that treatsure boxes are no longer available! Check out the section below on temporary measures that are in place now to keep customers safe.
treatsure also provides a delivery service for surplus, expiring, or blemished food items from various suppliers and distributors. They include fruits, vegetables, dairy products, potato chips, snacks, and even some lifestyle products.
Let us dive deeper into the story of treatsure and learn more about their journey so far, what their plans are for the future, and other insights they might have into the realm of sustainability.
1. What inspired you to start treatsure?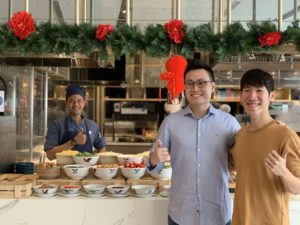 I (Preston) was in my final year in university in 2016 when I witnessed my family throwing out food from the refrigerator.  Even though the food was expiring but yet still consumable food items and thus realised how easy food was wasted.
Encouraged by the flourishing tech startup scene here in the 2010s and keen on entrepreneurship, I hoped to create a platform that could redistribute surplus food and reduce food wastage, while creating a novel business concept which harnessed my skills in business and law.
After brainstorming with my friend Kenneth who is a Computer Science undergraduate, we took a leap of faith. Proceeding then to build treatsure, with a mission to get everyone to treat food as treasure.
Read more: Exploring Consumers' Food Waste Decisions
2. How does treatsure help reduce food waste?
In hotels, food has to be prepared in excess due to operational and business factors. What we do to help minimize wastage is to allow customers to do a takeaway of this prepared food for 30-60 minutes before the restaurant closes.
When buffets were running pre-Circuit Breaker, we would run this all-day long to save as much food as we can.
In the case of grocery suppliers/distributors, their excess stock of products is usually due to retailers being unable to sell the foods with a short life span or that have certain defects.
What treatsure provides is a secondary channel for them. Giving these items a new lease of (shelf) life, while helping avoid the excessive wastage that can be in the magnitude thousands!
3. How does it benefit the customer?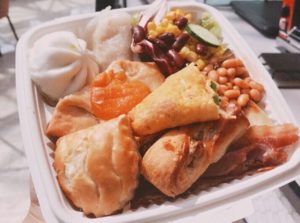 Our treatsurers get to enjoy quality food at a good value while having a thrill of discovering new food on our app and satisfaction in saving the environment too! There are also specialty groceries like yogurts and chips sold for up to 60% off, as well as a wide array of food from produce to cooked food.
4. Other platforms also help to share excess food too, what makes treatsure unique from those?
We are the first food-saving app platform in Asia-Pacific for both buffet and grocery food items, and our offerings are considerably unique.
For the buffet-in-a-box concept, treatsure is probably one of the very few apps in the world to implement this in collaboration with various prominent global hotel brands, like Grand Hyatt, AccorHotels, and Marriott, and there are no other channels to purchase excess buffet food as a consumer.
Additionally, we are a B2C platform, working with businesses and consumers. Other platforms primarily take on roles which are consumer-to-consumer sharing, business-to-business distribution, or redistribution to charities/beneficiaries.
5. Did you face any challenges when starting out?
Being a start-up, we faced many resource constraints, especially that of human and capital.
Another challenge we had was is in shifting mindsets and perspectives of both businesses and consumers about surplus food, about how we functioned, about why they needed to be concerned about food waste, etc.
Lastly, we launched our app in 2017 after one year of market research and product development. However, at that time, there was hardly any talk about sustainability or climate action. Hence there was considerable inertia in expanding our base of merchants and users at the very start.
6. What are your goals for treatsure, and what are you doing to work towards them?
We have just released Version 3 of our app that comes with a new interface and experience. However, we will continue to work on improving it for our customers. We also hope to expand our impact on sustainability by forming new partnerships (such as TSP!) and also listing other non-food items that can help our customers live a more sustainable life at lower prices too.
Also, another important thing on our list of goals is to create new solutions to tackle different streams of excess and new technologies to help learn about the demand and supply dynamics of food.
7. How have you managed to incorporate sustainability into your company?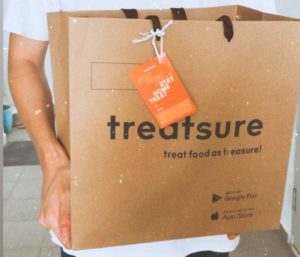 To reduce packaging waste, we have managed to help advocate a switch from plastic to alternative forms of packaging. We worked with our hotel partners to lay down a strict no plastic bag policy for customers' takeaways. Cutleries and napkins are also given only upon request.
We try also our best to minimise packaging as much as possible for our groceries and initiate collections of good-quality paper bags for reuse. Recently, we have introduced a reusable cooler bag for our cold grocery items to replace insulation bubble wraps. This ensures that the items can arrive cold on delivery.
In terms of food waste, we try our best to encourage responsible production and consumption by our stakeholders. This is done through our app's portioning and unit sizes for sale. We also actively engage the community and society at large through different channels to share about sustainability matters and raise awareness.
8. Are there any changes this COVID-19 situation has brought about?
We have seen a growth in demand for our surplus grocery service despite pickups being suspended until further notice. More people have taken to cooking and baking at home due to movement and travel restrictions.
We are always heartened to learn of new ways of using our surplus items for their homemade creations. Do feel free to tag us on social media to show us your amazing creations too!
Read more: Recipes for Your Overripe Food
During the Circuit Breaker, we also introduced new innovative offerings like the stay-home treat (where you could treat someone who has a work-from-home or stay-home notice) as well as a foreign worker treat-bute, where our users could purchase surplus snacks to be a gift for the workers who had been isolated in dormitories or hospitals.
We managed to reach close to 5,000 workers with the snack treats during the Circuit Breaker months.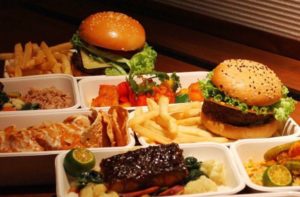 While buffets have been suspended since the Circuit Breaker, we have worked around it to provide new offerings for hotel food that are still in excess. One example of this is our collaborations with our hotel partner Grand Hyatt to provide excess meal boxes and cheeseburger meals for sale instead.
9. If there are any common concerns that users may have and their answer to it if any?
Some users are concerned that the groceries are of poor quality as they are in excess, expiring, or rejected. However, most perishable foods are still good for consumption up until the date of expiry. Thus, the only thing they have to take note of is the shorter period in which to use it.
For hotel meals, many have a misconception that poor quality leftovers are being offered for takeaway. However, our treatsurers pack the food before the buffet closes and take the same as the food that dine-in guests would take!
10. Any advice to users who are using the app or seeking to live more sustainably in general?
We can take progressive steps to live more sustainably. If you are stationary, start walking, if you are walking, start jogging and if you are jogging, start running.
Some would argue that the effect of individual actions on sustainability is small and governments/corporations should take a larger role. However, I believe the individual choices we make towards a zero-waste lifestyle can create a ripple effect on others too.
Ultimately and collectively, we play a role in sending positive signals to society and corporations to move for the better.